Hendon Hooker shows off arm, footwork in workout following offseason ACL rehab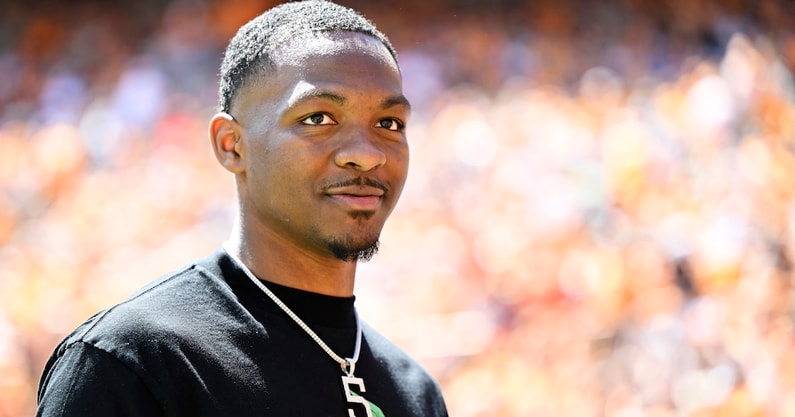 It's been more than five months since Hendon Hooker got to do what he did on Wednesday morning: Drop back and pass. The former Tennessee quarterback has been rehabbing a torn ACL in his left knee since Nov. 19, 2022.
Hooker is still a long way from being ready for live action, but getting back on the field and throwing is a big step in the right direction. He posted several videos to Twitter early on Wednesday afternoon to share and celebrate the milestone.
"First day of dropping back during this mornings session… feels great to move around again," Hooker said.
And while months remain before Hooker will strap on shoulder pads again, sharing this update in his rehab the day before the 2023 NFL Draft will surely have some fans perking up. While it remains unlikely, Hooker has been projected by some as a first-round pick, mostly as a late flier.
If the injury wasn't in play, that might've been the case. But with plenty of rehab still to go before he can really start to knock the rust off, nobody should get too far ahead of themselves.
Still, seeing the player who was a prohibitive Heisman favorite until his injury getting back on track is heartening to see.
Josh Heupel says Hooker is in a 'great position' to transition to the NFL
A knock on Hooker for some is the system he played in at Tennessee. The Volunteer offense often made it look easy for their unit to rack up yards and scores last fall.
However, Josh Heupel says to not let that perception fool you about what all Hooker had to do and, in doing so, how that makes him a better prospect for the NFL.
"I'm not sure anybody in college football had more on their plate than Hendon did. And then you throw in the tempo we play at? You've got to be a quick decision-maker, you've got to recognize defensive structure extremely quickly," Heupel said. "He controlled some of our run game, he controlled the RPO game. (Hendon's) making a decision on every snap. He's got loaded box checks, he's got alerts, he's got kills. He controlled the entire game on every single play. I think that puts him in a great position to be able to transition to the next level, handle all that's coming at him, and be able to handle it at a really high level."