High-majors are starting to prioritize fast-rising '23 point guard Garwey Dual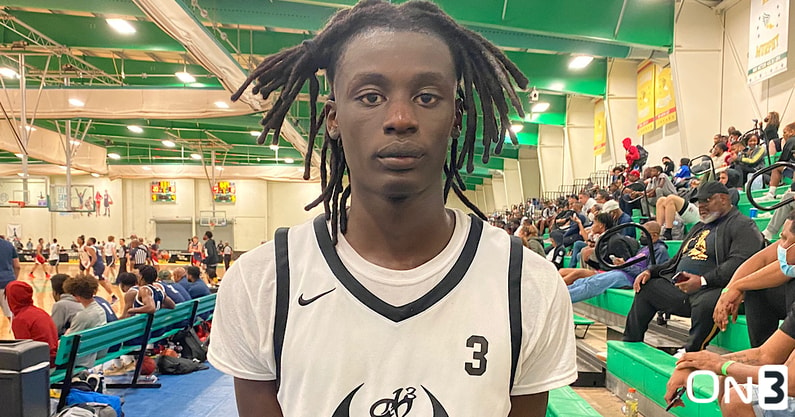 Thanks to his play throughout April, Garwey Dual may be the fastest rising point guard in the 2023 class.
"I can play both sides of the ball," Dual told On3. "I let my defense generate my offense, get a few steals and get to the rack; create for my teammates and get them the ball in their spots. I watch a lot of Allen Iverson, to be honest. I like his handle, his crossover."
College programs took notice of the Carmel (IN) High point guard. Since this interview, the 6-foot-5 Dual added even more offers, VCU and Providence. On3 caught up with Garwey Dual recently to talk about his recruitment and how things are heating up.
"I have offers from TCU, Arizona State, Fresno State, UAB, IUPUI, and some more," Dual said. "I have not been on any visits yet, but I plan on going on some soon. One I want to see is Marquette."
Dual talks recruitment
TCU: "The coach called me, and he just told me how much he liked how I play. On both sides of the ball, he said that I fit how they do things. Then he just offered me."
Arizona State: "They said they really like how I can play both sides of the ball. On offense, they like my size and how I can create offense, not just for myself but for my whole team."
Marquette: "I like their play style for the most part; how they play defense and guard. I like Coach Shaka (Smart), how he trusts his guards and lets them play. From what they are telling me, he will give me an opportunity to play a lot. That is all I need, really, is an opportunity."
"I am hearing a lot from Dayton, Marquette, and Texas," Dual said, "There is more, but those are the main ones who haven't offered yet, right now."
Dual's take
"I'm going to be looking closely at the coaching staffs," Dual said. "I want to see how they're going to be helping the players develop. I want to go somewhere that the coaching staff will help the guys get better in every possible way."
On3's take
Garwey Dual is a long-armed, quick-twitch, 6-foot-5 point guard. He lives in the paint with the ball in his hands. Dual has an array of finishes at the basket, whether above the rim, a floater, or a finish through contact. He will need to add strength; this may also help him cut down on the turnovers. His size allows him to play off the ball some, and he did knock down shots with confidence. Make no mistake about it; he is a point guard. The school that takes Dual will have to understand there will need to be some molding, lots of film study, and watching for angles and reads. There is next-level upside in there as you simply cannot teach his natural tools and size.