WATCH: Houston player forcefully shoves teammate during game vs Kansas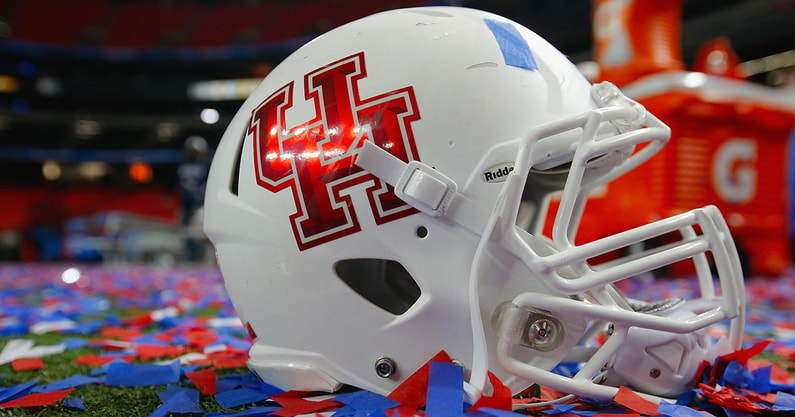 Frustrations may have boiled over for Houston today, as the Cougars were on their way to suffering a loss to the Kansas Jayhawks. There was a fight between two teammates on the sideline, with the team down two scores early in the third quarter.
As sophomore wide receiver Joseph Manjack made his way back to the Houston bench, he met fellow position player Cody Jackson. The redshirt freshman was on the receiving end of a forceful shove, causing a mini scramble on the sideline.
CLICK HERE to subscribe for FREE to the On3 YouTube channel
Both players went to the ground after Jackson pulled Manjack's facemask, continuing the go at one another. They were eventually separated, with fellow teammates and coaches having to pull them away.
You can watch the full moment here.
Of the two, Manjack was the only one who was able to record a stat against Kansas. He had three receptions for 25 yards — actually averaging a solid 8.3 yards per reception. However, something boiled over enough to where he wanted to take some frustration out on a teammate.
As for Jackson, he is heading into his second season with the program. He was ranked a four-star prospect by the On3 Consensus, a complete and equally weighted industry-generated average that utilizes all four major recruiting services. Jackson was the No. 125 player in the 2021 class and No. 20 in the state of Texas.
He originally signed with Oklahoma but made his way back to Houston via the transfer portal.
Once the final whistle blows, there will be some issues for head coach Dana Holgerson to figure out between his two receivers. The Cougars has now suffered two losses in as many weeks. One more nonconference game remains before American Atheltic Conference play begins on Sept. 30.