Texans could be without key offensive lineman for at least a month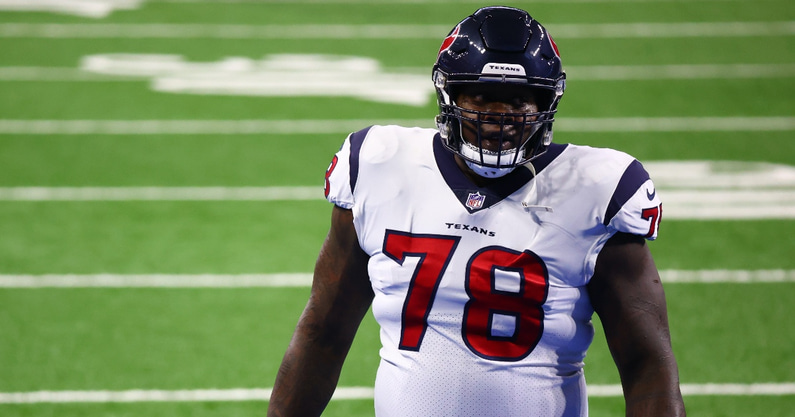 The Houston Texans will be without left tackle Laremy Tunsil for about a month per head coach David Culley.
"Texans coach David Culley said that LT Laremy Tunsil, who has a fully torn UCL in his thumb, will have surgery and be about about a month," Ian Rapoport reported. "Tunsil hoped to put off surgery to play."
Tunsil, 27, is in his third season with the Texans. The Ole Miss product was traded to Houston after three seasons in Miami. This season, Laremy Tunsil missed five snaps in the first four weeks of the season before playing just 26 offensive snaps in last Sunday's loss to the Patriots. Tunsil has started in all 33 games he has played for the Texans since 2019.
Houston wide receiver Brandin Cooks described Laremy Tunsil's injury as "huge."
"I don't know exactly what's going on, but if that is the case, it's huge," Cooks said. "You talk about a talent like that, I mean, the guy is special. He's been playing at a high level since the moment he stepped into this league."
It is not known who will take over at left tackle in Laremy Tunsil's absence. Against New England, Geron Christian filled in. The Texans could turn to Christian, or move second-year right tackle Charlie Heck, who was selected in the fourth round of the 2020 NFL Draft, to the left side of the line.
The Houston Texans are 1-4 but still sit second in the AFC South. With Tyrod Taylor still out with injury, rookie quarterback Davis Mills has taken over at quarterback with mixed results. In four games, all losses, the Stanford product has thrown for 669 yards, five touchdowns and five interceptions. Mills had his best game of his young career against New England, throwing for 312 yards and three touchdowns, completing over 72% of his passes.
Two bright spots for the Texans offense has been running back Mark Ingram II and the aforementioned Brandin Cooks. Ingram has rushed for 212 yards and one touchdown. Cooks has 31 receptions for 392 yards and one touchdown.
Defensively, the Texans have struggled to get to the quarterback, tied for second-worst in the league with just eight sacks in five games. Houston's defensive has been relatively middle of the pack in pass defense but has struggled against the run, sitting 25th in rushing yards allowed and tied for last in rushing touchdowns allowed.
The Texans take on the Indianapolis Colts on Sunday at Lucas Oil Stadium.