How athletes can uniquely use NIL earnings: Ohio State OL Harry Miller guest blog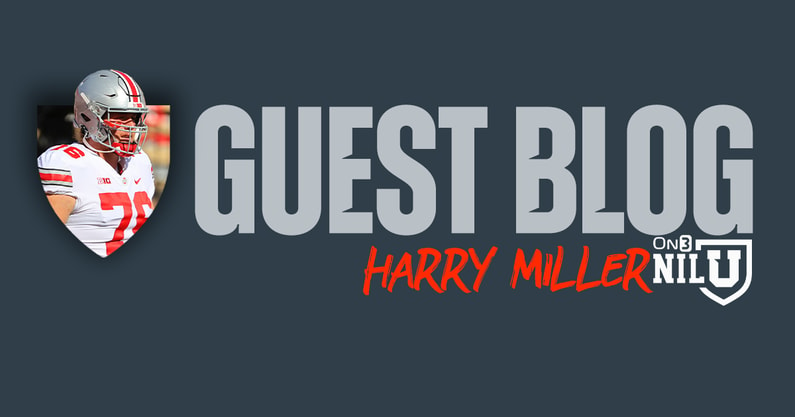 What is your advice on how other athletes can be unique in how they utilize their NIL earnings? What would be your advice for athletes on how to go about choosing a charity or cause that you want or should give back to? 
Being unique will end up being the ultimate separator as NIL grows and matures. Early on, many brands have been eager to simply get involved. As a result, getting some partnerships have been as easy as an Instagram DM. As NIL progresses, there are going to be more and more athletes involved, so there will be more athletes to choose from. If you do not develop a trait or quality about yourself that distinguishes you from others, it will be difficult to be recognized down the road. Therefore, being unique and identifying a niche that you fit in is not just an important thing to do. It will end up being the most important thing to do.
In addition, do not sell yourself completely on many of these small, early deals. Everybody is getting them, and this could just make you as passable as the next person. I know many guys who have been quick to jump on tiny deals all over the place. They have gotten fun trinkets and free things here and there, but it has come at the price of their persona becoming walking billboards and their individual voice being lost to ad space. Again, this could make future opportunities disappear. Of course, a contract may exclude you from pursuing future partnerships, but not many brands will want to partner with players who are mercenary advertisers who have lost any sort of credibility, either.
In the scope of charitable actions, it is very difficult to go wrong. People will always be in need, whether by means of socioeconomic status, political strife, or natural disaster. If you simply ask who needs help, many people will raise their hands, and you may be surprised by the vast number of people you can help locally. So simply ask, and help where you can, and where you can't, just be kind.
---
Watch Grant Frerking's full interview with Miller on Youtube or read the transcript on On3.
Read Frerking's quick reaction blog about how Casey uses his NIL earnings in a charitable way.