How the five-star freshmen are performing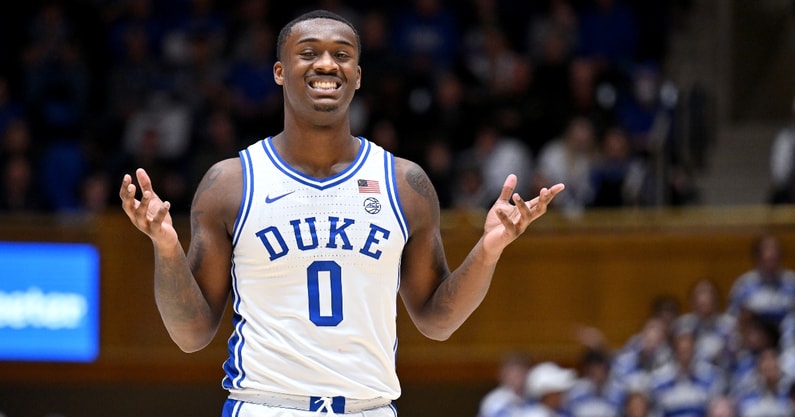 On3 had 22 five-stars in our 2022 On3 150. Now that we are into the second week of December, we are starting to accumulate a sample size for the college season. While the 2022-23 sample size is still small, the lens is starting to focus. I wanted to look through that lens and see how the five-star freshmen are performing.
It is worth noting 2022 five-stars Cam Whitmore and Nick Smith have been sidelined with various injuries and have returned for less than a handful of games. 2022 On3 150 No. 2 Leonard Miller went the G-League route instead of college. Most of the 22 players are approaching ten or more games played, including Dariq Whitehead and Dereck Lively, who each missed the start of the season with injuries.
While this list is based on On3s in-house rankings, what we refer to as the 2022 On3 150, I also included the 2022 On3 Consensus ranking with these players to provide some context around the industry standard of each prospect.
The On3 Consensus is a proprietary algorithm that compiles ratings and rankings from all four major recruiting media services. Created by the authors of the Composite, the On3 Consensus is the most advanced, complete, and unbiased rating and ranking measurement in the industry. 
This will be an exercise I do every couple of weeks to track their progress as the sample size continues to grow.
Read How the five-stars are performing (11/28)
No. 1 Kyle Filipowski (Duke)
Profile | 6-11 C | On3 Consensus No. 5
2022-23 Stats: 12 games, 12 starts, 27.3 minutes, 14.8 points, 9.2 rebounds, 1.3 assists, 1.5 steals, 0.8 blocks, 43.2% FG, 33.3% 3P
No. 2 Leonard Miller (G-League)
Profile | 6-10 PF | On3 Consensus No. 21
2022-23 Stats: 11 games, 29.4 minutes, 16.2 points, 8.5 rebounds, 1.7 assists, 1.3 steals, 0.8 blocks, 51.1% FG, 30.3% 3P
No. 3 Dillon Mitchell (Texas)
Profile | 6-8 F | On3 Consensus No. 4
2022-23 Stats: 8 games, 20.3 minutes, 8.3 points, 5.4 rebounds, 0.4 assists, 0.9 steals, 0.1 blocks, 68.2% FG, 0.0% 3P stats
No. 4 Cason Wallace (Kentucky)
Profile | 6-4 CG | On3 Consensus No. 8
2022-23 Stats: 9 games, 32.3 minutes, 10.7 points, 4.2 rebounds, 4.3 assists, 2.4 steals, 0.3 blocks, 52.9% FG, 51.6% 3P
No. 5 Dariq Whitehead (Duke)
Profile | 6-7 SF | On3 Consensus No. 2
2022-23 Stats: 9 games, 16.1 minutes, 6.7 points, 2.3 rebounds, 0.9 assists, 0.6 steals, 0.1 blocks, 36.9% FG, 26.1% 3P
No. 6 Kel'el Ware (Oregon)
Profile | 7-0 C | On3 Consensus No. 6
2022-23 Stats: 10 games, 24.6 minutes, 9.7 points, 5.5 rebounds, 1.0 assists, 0.3 steals, 1.7 blocks, 47.4% FG, 29.6% 3P
No. 7 Cam Whitmore (Villanova)
Profile | 6-7 SF | On3 Consensus No. 10
2022-23 Stats: 3 games, 23.3 minutes, 15.7 points, 5.3 rebounds, 0.7 assists, 1.7 steals, 0.0 blocks, 50% FG, 35.3% 3P
No. 8 Dereck Lively (Duke)
Profile | 7-1 C | On3 Consensus No. 1
2022-23 Stats: 11 games, 17.5 minutes, 4.4 points, 3.7 rebounds, 0.8 assists, 0.7 steals, 2.0 blocks, 60.0% FG, 0.0% 3P
No. 9 Anthony Black (Arkansas)
Profile | 6-7 PG | On3 Consensus No. 15
2022-23 Stats: 9 games, 33.1 minutes, 12.3 points, 5.3 rebounds, 4.0 assists, 1.9 steals, 0.6 blocks, 56.9% FG, 44.0% 3P
No. 10 GG Jackson (South Carolina)
Profile | 6-9 SF | On3 Consensus No. 7
2022-23 Stats: 9 games, 33.7 minutes, 17.1 points, 7.2 rebounds, 0.7 assists, 0.9 steals, 1.0 blocks, 43.7% FG, 36.6% 3P
No. 11 Gradey Dick (Kansas)
Profile | 6-8 SG | On3 Consensus No. 17
2022-23 Stats: 9 games, 31.0 minutes, 15.3 points, 4.1 rebounds, 1.6 assists, 1.2 steals, 0.1 blocks, 48.0% FG, 45.3% 3P
No. 12 Nick Smith (Arkansas)
Profile | 6-5 SG | On3 Consensus No. 3
2022-23 Stats: 4 games, 24.5 minutes, 14.8 points, 2.0 rebounds, 2.3 assists, 0.5 steals, 0.3 blocks, 43.5% FG, 31.3% 3P
No. 13 Yohan Traore (Auburn)
Profile | 6-10 C | On3 Consensus No. 23
2022-23 Stats: 9 games, 14.3 minutes, 3.9 points, 2.7 rebounds, 0.4 assists, 0.0 steals, 0.1 blocks, 44.8% FG, 14.3% 3P
No. 14 Jarace Walker (Houston)
Profile | 6-8 F | On3 Consensus No. 11
2022-23 Stats: 10 games, 24.1 minutes, 9.4 points, 6.7 rebounds, 1.5 assists, 1.1 steals, 1.1 blocks, 47.6% FG, 37.5% 3P
No. 15 Julian Phillips (Tennessee)
Profile | 6-8 SF | On3 Consensus No. 13
2022-23 Stats: 9 games, 26.4 minutes, 12.2 points, 5.7 rebounds, 2.1 assists, 0.8 steals, 1.0 blocks, 38.7% FG, 21.1% 3P
No. 16 Keyonte George (Baylor)
Profile | 6-5 SG | On3 Consensus No. 9
2022-23 Stats: 9 games, 27.3 minutes, 15.7 points, 4.4 rebounds, 4.2 assists, 1.3 steals, 0.2 blocks, 39.8% FG, 32.9% 3P
No. 17 Brandon Miller (Alabama)
Profile | 6-9 SF | On3 Consensus No. 14
2022-23 Stats: 9 games, 33.4 minutes, 17.9 points, 8.4 rebounds, 1.7 assists, 0.6 steals, 0.9 blocks, 37.9% FG, 42.9% 3P
No. 18 Ugonna Onyenso (Kentucky)
Profile | 6-11 C | On3 Consensus No. 27
2022-23 Stats: 8 games, 10.0 minutes, 4.3 points, 3.9 rebounds, 0.3 assists, 0.3 steals, 1.9 blocks, 62.5% FG, 0.0% 3P
No. 19 Jalen Hood Schifino (Indiana)
Profile | 6-6 PG | On3 Consensus No. 25
2022-23 Stats: 7 games, 28.1 minutes, 8.7 points, 4.7 rebounds, 4.1 assists, 1.0 steals, 0.0 blocks, 37.5% FG, 31.6% 3P
No. 20 Tyrell Ward (LSU)
Profile | 6-6 SF | On3 Consensus No. 29
2022-23 Stats: 6 games, 5.5 minutes, 0.8 points, 0.8 rebounds, 0.0 assists, 0.6 steals, 0.0 blocks, 25.0% FG, 20.0% 3P
No. 21 JJ Starling (Notre Dame)
Profile | 6-4 SG | On3 Consensus No. 18
2022-23 Stats: 9 points, 32.6 minutes, 12.6 points, 2.8 rebounds, 1.1 assists, 0.9 steals, 0.4 blocks, 43.6% FG, 25.7% 3P
No. 22 Mark Mitchell (Duke)
Profile | 6-9 F | On3 Consensus No. 24
2022-23 Stats: 12 games, 23.2 minutes, 9.5 points, 3.5 rebounds, 1.3 assists, 0.3 steals, 0.5 blocks, 51.8% FG, 42.9% 3P