How top 2022 quarterback prospects are playing as seniors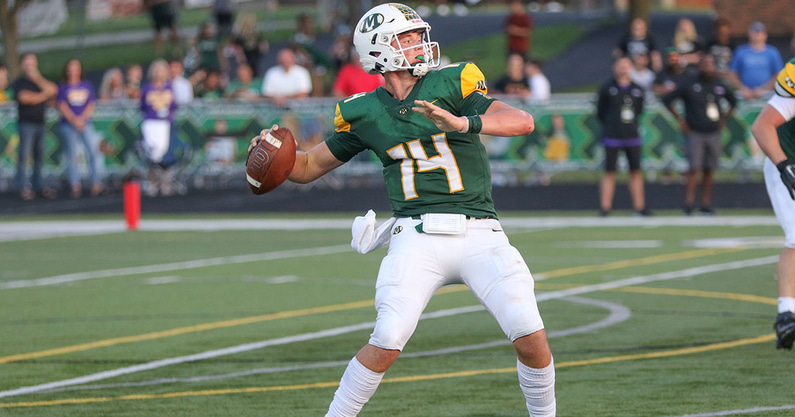 When it comes to player rankings and long-term projections, the senior season is typically the most crucial evaluation point for high school quarterback prospects. The season presents the most current and largest sample size we have for most quarterbacks. It's also the most translatable environment to college football, perhaps outside of some all-star game situations.
With that said, On3 places an emphasis on thoroughly evaluating the senior campaigns of quarterback prospects. With several weeks of high school football under our belt, now is a good time to check in on how the top 2022 signal-callers are faring this fall.
Drew Allar – Penn State commit
On300 ranking: No. 28
Stats: 5 games- 111-181 (61.3%), 1,737 yards (9.6 yards per attempt), 17 TD, 2 INT, 43 rushes, 282 yards, 5 TD
Drew Allar is off to a hot start, averaging over 400 total yards per game, midway through the regular season. The 6-foot-5, 220-pounder is at the controls of a quarterback-centric offense at Medina (Ohio) High. He plays in a deep shotgun and is a key part of their running game with designed runs, often out of empty sets. Seeing that mobility from a bigger quarterback is encouraging.
We've seen Allar get increasingly more comfortable as the season has progressed. He's been rolling in recent weeks. The Penn State quarterback pledge has continued to show his strong, downfield arm. He's able to flick the ball around and touch all areas of the field. The arm talent continues to look like it's among the best in the class.
Allar takes a bunch of deep shots in Medina's offense, but he's also shown the ability to stick the football into compressed windows across the middle of the field and in the red zone.
Cade Klubnik – Clemson commit
On300 ranking: No. 33
Stats: 3 games- 60-84 (71.4%), 916 yards (10.9 yards per attempt), 10 TD, 1 INT, 21 rushes, 92 yards, 3 TD
Cade Klubnik is starring for one of the nation's top teams in Austin Westlake. The Chaps ran the table en route to a state title in 2020 and have yet to be tested. The Clemson pledge is playing behind an offensive line stocked with Power 5 prospects. Even then, he's shown some good feel and movement while operating within the pocket.
Klubnik has also shown translatable movement skills and mechanics. He has twitchy lower body movement patterns and tends to generate force in his throwing motion through hip torque.
Few if any other quarterbacks in the 2022 cycle have a better overall supporting cast and situation than Klubnik. Still, he's playing at a very efficient level, showing accuracy and the ability to take care of the ball.
Conner Weigman – Texas A&M commit
On300 ranking: No. 55
Stats: 3 games- 73-111 (65.8%), 1,112 yards (10 yards per attempt), 11 TD, 4 INT, 41 rushes, 290 yards, 2 TD, 2 receiving TD
Conner Weigman got off to a huge start as a senior, scoring eight touchdowns in his season debut, which was aired on national television. He's running an uptempo, quarterback-heavy offense at Bridgeland (Texas) High. The Bears get up and down the field. Weigman had a four-interception game in Week 2 but still managed to come away with the win. He rebounded a week later with another huge stat day.
So far, the Aggie quarterback commit is averaging well over 400 total yards per game. Weigman is an instinctive player with a bit of a gunslinger streak. He's also continued to show some speed and rushing ability like he did last year.
Walker Howard – LSU commit
On300 ranking: No. 60
Stats: 3 games- 58-105 (55.2%), 883 yards (8.4 yards per attempt), 9 TD, 2 INT, 17 rushes, 102 yards, 2 TD

Walker Howard had one of the better junior seasons among the 2022 quarterback prospects.The 2021 season has been a bit of an adjustment for Howard and his Lafayette (La.) St. Thomas More team. The squad lost several starters and key players from last year's state title team, including Howard's top target Jack Bech, who is now at LSU.
A few weeks ago, we watched St. Thomas More's first game of the season against another state title team, Madison Prep Academy. Howard played well overall and put his receivers in positions to make plays, but they couldn't deliver in some key moments. They're still just three games into the season due to Hurricane Ida, so it's possible we could see Howard get some help from his supporting cast as the season progresses.
Ty Simpson – Alabama commit
On300 ranking: No. 66
Stats: 5 games- 92-132 (69.7%), 1,151 yards (8.7 yards per attempt), 15 TD, 2 INT, 430 rushing yards, 6 TD
The Alabama commit is off to what is by far the best start of his high school career. Ty Simpson has always played with a twitchy, improvisational style, sometimes by necessity to create plays for his team. Things are coalescing around Simpson's skills as a senior and his Martin (Tenn.) Westview team is off to a 4-1 start with Simpson putting up some impressive numbers thus far.
Simpson has shown the ability to win from within and outside structure. He's able to pull out some natural improvisational skills when things break down. Simpson also showing rushing ability, averaging 86 yards per game on the ground thus far.
Devin Brown – USC commit
On300 ranking: No. 78
Stats: 6 games- 102-141 (72.3%), 2,007 yards (14.2 yards per attempt), 23 TD, 7 INT, 36 rushes, 207 yards, 6 TD
Devin Brown made the move from the Phoenix area to Utah powerhouse Corner Canyon for his senior season. Corner Canyon has become a juggernaut in recent years, particularly on offense. The program has pumped out two top quarterbacks in No. 2 pick Zach Wilson and USC freshman quarterback and former five-star Jaxson Dart.
That is to say, it should not be a huge surprise that Brown is putting up some prolific passing numbers as a senior. Aside from the high interception count (averaging over one per game), Brown is operating the Corner Canyon offense at a high level.
Brown is a strong-armed passer with and throws a tight, clean ball. He's best when operating within structure at this point. The 6-foot-3, 200-pounder received offers from both UCLA and Ole Miss in the wake of Clay Helton's firing at USC last week.
Henry Belin – Duke commit
On300 ranking: No. 80
Stats: N/A
Henry Belin and his Bronx (N.Y.) Cardinal Hayes team got off to a slow start to the season, playing two top teams from New Jersey and Washington D.C. Both games were not close with Cardinal Hayes simply being out-manned from the opening kick.
We got a better picture of Belin's abilities this week with Cardinal Hayes returning to normal competition. The Duke pledge threw several touchdowns in a last-second win against Minneola (N.Y.) Chaminade. Belin has a naturally pliable arm with the ability to drive the ball to multiple levels of the field.
Gunner Stockton – Georgia commit
On300 ranking: No. 101
Stats: 4 games- 56-85 (65.9%), 1,278 yards (15 yards per attempt), 16 TD, 1 INT, 39 rushes, 313 yards, 4 TD
Gunner Stockton has been one of the more productive quarterbacks in high school football going on four years and this season is no different. The Georgia commit does it all for Tiger (Ga.) Rabun County as a downfield passer and powerful runner between the tackles.
Rabun County faced a tough ball-control offense in a week one loss but has rebounded to have several strong showings. In watching video of Stockton, I noticed his willingness to stick in the pocket and deliver in the face of contact. There's certainly no doubting his toughness.
Nate Johnson – Utah commit
On300 ranking: No. 117
Stats: 4 games- 59-88 (67%), 812 yards (9.2 yards per attempt), 4 TD, 4 INT, 31 rushes, 238 yards, 1 TD
Nate Johnson missed one game due to COVID protocols. He has great physical ability and is the fastest quarterback in the country with a 10.49 100m time
Nick Evers – Florida commit
On300 ranking: No. 147
Stats: 3 games- 69-129 (53.5%), 934 yards (7.2 yards per attempt), 7 TD, 1 INT, 36 rushes, 233 yards, 3 TD
The efficiency stats may not show it, but we're seeing Evers come into his own. Nick Evers was a first-year starter as a junior in 2020 at Flower Mound (Texas) High and showed some promise. He's benefited from the increased live reps and is showing marked growth as a player.
The Florida quarterback pledge has the quickest release among 2022 signal callers that we've seen. He uses core strength to quickly summon force to drive the ball downfield. The first throw in the video below is a good example. Evers easily flicks a throw to the boundary from the far hash – heady stuff for a high school quarterback.
Evers is not playing on a loaded team at Flower Mound but has kept them in games against tough competition. We watched Evers play against perennial power Highland Park a few weeks back and counted upwards of five catchable incompletions in the end zone. That is to say, don't let the completion percentage fool you – accuracy does not appear to be an issue.
We've also seen Evers show increased rushing ability. He has good speed and is making some plays as a scrambler, averaging 77 rushing yards per game.
Katin Houser – Michigan State commit
On300 ranking: No. 151
Stats: 5 games- 45-73 (61.6%), 659 yards (9 yards per attempt), 5 TD, 1 INT, 10 rushes, 39 yards, 2 TD
Katin Houser is splitting time with 2023 quarterback Pierce Clarkson at SoCal powerhouse St. John Bosco. This setup is a continuation of what we saw in the shortened spring season. Thus, his sample size is naturally going to be smaller than many of the other top quarterbacks.
Houser is a mechanically clean passer who is able to layer the ball with touch downfield. He is a smooth mover and fluid athlete. St. John Bosco is a loaded top team and Houser plays with a strong supporting cast. With that said, the Braves face strong competition with a number of national games on the schedule.
Conner Harrell – North Carolina commit
On300 ranking: No. 177
Stats: 5 games- 57-80 (71.2%), 1,088 yards (13.6 yards per attempt), 18 TD, 1 INT, 11 rushes, 75 yards, 1 TD
Conner Harrell arguably had the best statistical season among 2022 quarterbacks as a junior, leading Alabaster (Ala.) Thompson to a state title. Thompson looks even stronger in 2021, led by Harrell and a suffocating defense that features multiple blue-chippers. The Warriors starters rarely see time into the second half of games, so Harrell is playing much less than most of his counterparts. With that said, he's still putting up some gaudy numbers.
The North Carolina pledge has a nice combination of arm strength and athletic ability, paired with offensive operating efficiency. He's able to make some individual plays when needed but also does a great job of playing within the offense and minimizing mistakes.
Garret Rangel – Oklahoma State commit
On300 ranking: No. 197
Stats: 2 games- 29-45 (64.4%), 542 yards (12 yards per attempt), 6 TD, 1 INT, 12 rushes, 56 yards
Garret Rangel went out with an injury in Frisco (Texas) Lone Star's second game of the season but could make it back later in the year. We saw Rangel make some high-difficulty far hash throws in the limited sample from this season.
The Oklahoma State commit burst on the scene as a sophomore in 2019, putting up big-time numbers while throwing to current Oklahoma wide receiver Marvin Mims. We like Rangel's physical traits along with his strong body of work and hope to see him back on the field this fall.
AJ Duffy – Florida State commit
On300 ranking: No. 215
Stats: 5 games- 35-57 (61.4%), 421 yards (7.4 yards per attempt), 9 TD, 1 INT
AJ Duffy made the move from California to IMG Academy in Bradenton, Florida for his senior season. The Florida State quarterback commit missed his junior season, as he was at IMG during the spring when California played their truncated schedule.
Additionally, IMG plays a compressed schedule with a mauling, run-heavy, offense. We rarely see IMG quarterbacks get a bunch of pass attempts. That's the case here, as Duffy is averaging a little over 11 attempts per game. This makes for a tougher evaluation, as Duffy and past IMG quarterbacks take on a role that is more facilitator than playmaker. Still, Duffy is an experienced quarterback and has shown some accuracy and playmaking ability earlier in his high school career.
Justyn Martin – Uncommitted
On300 ranking: No. 223
Stats: N/A
Justyn Martin made news earlier in the week when he decommitted from Cal. Ole Miss and nearby UCLA jumped in the boat with offers to the Inglewood (Calif.) quarterback following his commitment to Cal in January.
The 6-foot-4, 210-pounder showed continued development during the offseason. Martin has longer arms, so he naturally has a little more to organize mechanically. Through a few games, he looks to have continued the upward trajectory. Martin is a big-armed passer with the ability to dot the ball to all areas of the field. He's also showing some good mobility.
Tayven Jackson – Tennessee commit
On300 ranking: No. 264
Stats: 5 games- 43-72 (59.7%), 685 yards (9.5 yards per attempt), 9 TD, 1 INT, 20 rushes, 38 yards, 2 TD
Tayven Jackson has an intriguing physical skill set and athletic profile. He's a big, multi-sport athlete who leads one of the top high school programs in Indiana. What we've seen from him so far this season is similar to what he showed as a junior. Jackson is not a high-usage quarterback for Greenwood (Ind.) Center Grove. He's only attempting 14.5 passes per game thus far. Some of that is certainly due to blowout wins. Still, we see Jackson make plays when called upon.
Holden Geriner – Auburn commit
On300 ranking: N/A
Stats: 4 games- 67-112 (59.8), 764 yards (6.8 yards per attempt), 7 TD, 1 INT, 22 rushes, 48 yards, 2 TD
Holden Geriner and his Savannah (Ga.) Benedictine team are 2-2 on the season, having faced some strong out-of-state opponents. He's also without his top target from last year – Trent Broadnax, who is now at Duke.
While he's not a considerable run threat, we're seeing Geriner show some increased mobility and pocket movement. He has a quick release and is hitting some downfield shots. Ultimately, Geriner projects as an in-structure quarterback who is best within a pro-style system where he can operate within the quick passing game and hit deep balls off of play-action.
Maalik Murphy – Texas commit
On300 ranking: N/A
Stats: 3 games- 57-99 (57.6%), 905 yards (9.1 yards per attempt), 6 TD, 4 INT, 13 rushes, 38 yards, 1 TD
Maalik Murphy committed to Texas before becoming a full-time varsity starter, so the fact he's a developmental quarterback should not be a huge surprise. We saw Murphy get his first extended action at Gardena (Calif.) Serra during California's shortened spring season. While he's currently out with an injury, what we've seen this fall from Murphy is similar to the spring. The arm strength is among the best in the class. Murphy is among the bigger quarterbacks in the 2022 cycle and can generate a bunch of force with the football. He's still developing as an overall quarterback and has limited live reps. There's no question he'll need time and will benefit from scout team work once he gets to college. Murphy moves adequately, but is not a run threat and will need to also continue improving his mobility.
Destin Wade – Kentucky commit
On300 ranking: N/A
Stats: 4 games- 18-31 (58.1%), 292 yards (9.4 yards per attempt), 3 TD, 0 INT, 43 rushes, 776 yards, 12 TD
Destin Wade is an interesting prospect in that he's among the very best rushing quarterbacks in the 2022 cycle. One quick look at his production this year backs that up. The rushing stat line is borderline absurd. He's scoring on less than one out of every four rushes and is averaging 18 yards per rush.
Stylistically, Wade is similar to some of Mark Stoops' prior Kentucky quarterbacks, like Terry Wilson and Stephen Johnson. With new offensive coordinator Liam Cohen coming from the NFL, it will be interesting see how Wade is used in the new scheme. Additionally, Wade's twin brother, Keaten, is a talented On300 pass rusher. He certainly has the athleticism to play another position if needed.