Hugh Freeze candidly addresses speculation about his candidacy at Auburn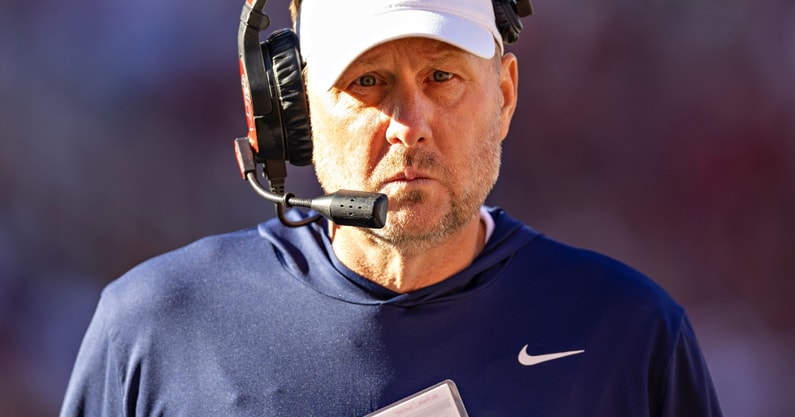 As Liberty prepared to kick off its game Saturday against New Mexico State, reports swirled saying Hugh Freeze was emerging as the top target at Auburn after Lane Kiffin said he's staying at Ole Miss. After the Flames' lopsided 42-14 loss to the Aggies, Freeze directly addressed the speculation.
Kiffin told ESPN's Chris Low he's staying at Ole Miss and signing an extension, and that could open the door for Freeze to take the job. A report surfaced during the fourth quarter saying Freeze has spoken with the Liberty administration about the job, but hadn't said if he'd take it or not.
In his postgame press conference, Freeze openly discussed the situation with reporters.
CLICK HERE to subscribe for FREE to the On3 YouTube channel
"I've communicated with (Liberty athletic director) Ian (McCaw) if someone ever wanted to talk to us that interests us, I would always tell him," Freeze said. "Is the job everyone is talking about one that I would have an interest in talking with? Sure. That doesn't mean they have not offered me a job. Who knows where that's headed?
"But I've always said I love being here on the mountain. I'm happy here. But I'm not going to sit and say to our kids that's just absolutely false there's no interest in it. The part that is false is that there has been no offer made to me and nor have I accepted anything."
More on Hugh Freeze as a candidate at Auburn
It's becoming increasingly likely that Lane Kiffin won't be the next head coach at Auburn. Instead, Hugh Freeze has emerged the favorite and the Tigers are expected to offer him a contract in the days following the Iron Bowl, per report.
"Auburn has been in discussion with Hugh Freeze for weeks about him becoming Auburn's next coach. They won't make a formal offer until after the Iron Bowl, but they've informally discussed contract and numbers with him for more than week," ESPN's Pete Thamel tweeted Saturday morning.
Freeze, the current head coach of Liberty, has had major success in the SEC during his coaching career. Formerly the head coach at Ole Miss from 2012-2016, Freeze led the Rebels to back-to-back wins over Alabama during his tenure. In 2016 he led the Rebels to its first top-10 finish (No. 9) to a season since 1969.