Big week ahead for Colts' Carson Wentz, Quenton Nelson ahead of injury return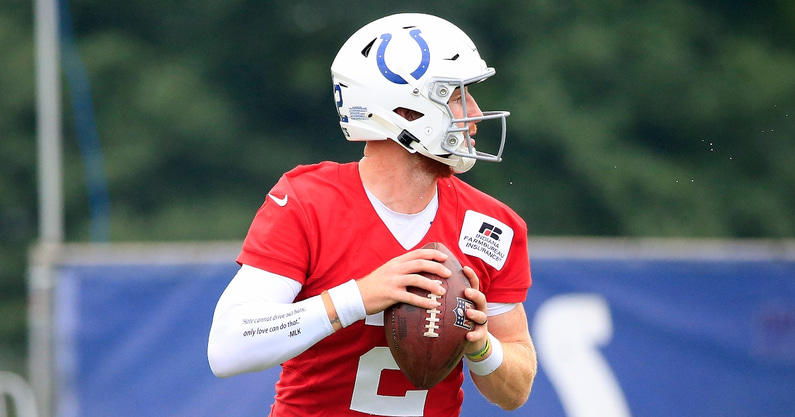 When Carson Wentz and Quenton Nelson went down with the same foot injury, it seemed like the Indianapolis Colts would be cursed by bad luck for all of 2021. However, the outlook isn't as bleak as it once was for Frank Reich's squad.
With less than two weeks remaining before the regular season, the Colts head coach said this is a big week for two of his star players.
"We've got to see how (Wentz) responds to going one day in team," Reich said, via George Bremer of the Herald Bulletin. "Then the next day will be a walk-through. So kind of give him and Quenton a chance to have a day there. Then we have a day in pads on Wednesday and then another shorter practice on Thursday.
"This will be a big week to determine where those two guys are, but they will be in team (drills). We'll see if they are limited or not or if they are full-go for every rep. We'll see how it goes during practice."
Last week, both players participated in individual drills throughout the team's practice. Moreover, the Colts originally circled this week as the point in time they would make their decision of Wentz and Nelson's Week 1 status.
If the duo can handle a full day's work, the Colts will be encouraged regarding their status for a matchup with the Seattle Seahawks. Moreover, Indianapolis wants time to prepare their primary backups for the matchup if either can't return in-time.
If Wentz can't go, it will be Jacob Eason starting for the Indianapolis Colts.
Could Eason start Week 1?
Evidently, this week is huge for another quarterback as well. If Carson Wentz can't ramp it up due to injury, it'll be Eason starting against the Seahawks. 
Last week, Frank Reich named former Georgia and Washington quarterback Wentz' backup. The decision came after his primary competitor, rookie Sam Ehlinger, was diagnosed with a knee sprain which will hold him out for five to six weeks.
"Jacob has earned that spot," Reich said, via NFL.com. "I think he's done a nice job. Really happy with his progress and happy for him. Jacob's handled himself like a pro."
In Wentz' stead, Eason finished the preseason with 389 yards on 41-for-62 passing with no touchdowns and no interceptions. The 6-foot-6 former fourth round pick took three sacks in the first preseason game but did not go down in either of his final two appearances.
Earlier this preseason, Eason offered his thoughts on the quarterback battle and detailed the mindset he tries to keep.
"My focus was one day at a time, one rep at a time," said Eason. "Do my job consistently and not make the picture bigger than it has to be. Obviously, there's a lot going on outside, but I just wanted to focus on the little things and do my job.
The Colts took Eason with the 122nd overall selection in the 2020 NFL Draft. Last season, he was the third string quarterback, behind Philip Rivers and Jacoby Brissett.
On3's James Fletcher III contributed to this article.