Injury update for Titans wide receiver Julio Jones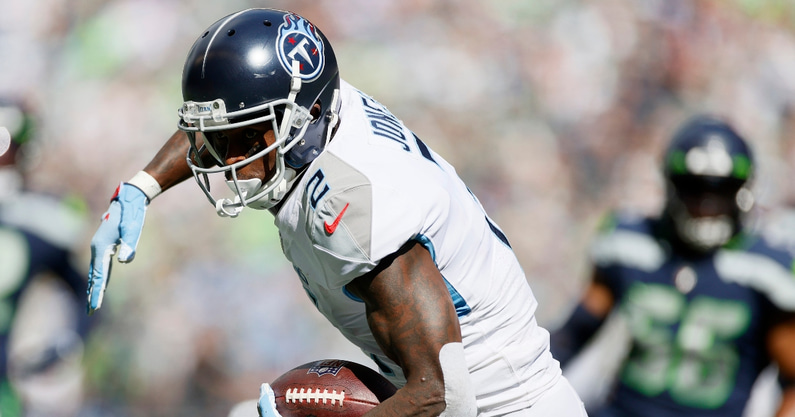 Tennessee Titans wide receiver Julio Jones was a full participant in practice today and is trending towards a return on Monday night against the Buffalo Bills, according to Field Yates of ESPN.
Jones has had a disappointing season thus far and has missed the past two games with a hamstring injury. The surprising part is even after missing two games, he still leads the Titans in receiving yards (204).
He was expected to team up with fellow Titans wide receiver A.J. Brown to form one of the best pass catching duos in the NFL, but Brown has been dealing with a hamstring injury of his own in 2021.
The good news is the former Ole Miss star was also a full participant in practice on Thursday. Brown and Jones getting healthy couldn't come at a better time, as the Titans' next matchup is against one of the best teams in the National Football League in the Buffalo Bills on Monday night.
Josh Allen and the Bills are coming off of one of their best performances of this season so far. They went into Arrowhead on Sunday night and whipped the Kansas City Chiefs, 38-20, in sloppy, rainy conditions.
Allen had four total touchdowns and over 360 all-purpose yards in the highly anticipated matchup. The Bills' defense stifled Chiefs quarterback Patrick Mahomes and forced him into two critical interceptions.
The Titans will need every ounce of offensive firepower they can get against the Bills, since their defense has been more than generous. Tennessee's defense is currently allowing 26 points per game, ranking 24th in the league. They are also surrendering 264 yards per game through the air, ranking them 21st in the league in that category.
Tannehill studies Julio Jones
Tennessee quarterback Ryan Tannehill watched film of Julio Jones this past off-season to get acquainted with his playing style.
"I got a cutup of all his catches in the last two years down in Atlanta," Tannehill said. "(I) was able to watch that cutup and just try to see what he did. Obviously, it will be a little bit different in our offense, but just kind of see what he had success doing and the type of plays he was making. It was fun. It was fun for me to be able to see that tape and see the plays he was making."
Titans' fans are hoping Jones can finally stay healthy and return to the form he once showed in Atlanta that made him one of the best receivers ever to play in the National Football League.
On3's Chandler Vessels also contributed to this report.