Injury update: Kyle Shanahan provides update on Jaquiski Tartt and Jalen Hurd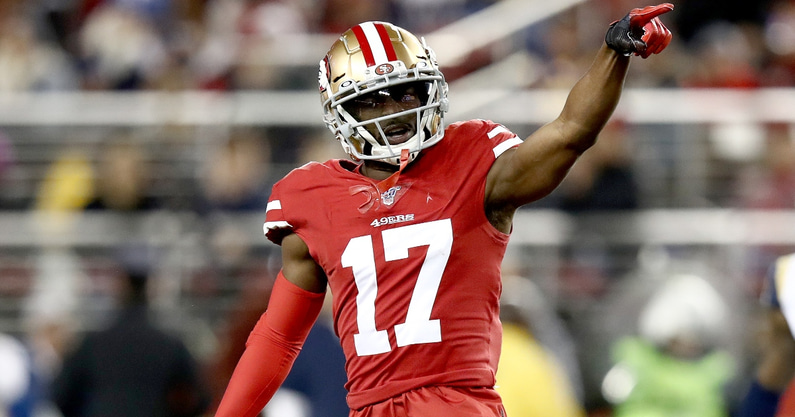 The 49ers were excited coming into the 2021 season because they finally have the majority of their roster healthy. Most of it. Last season they were decimated by injuries and they were one of the most injury-plagued teams in the National Football League. In 2020, they led the league in games lost due to injury.
Unfortunately for 49ers fans, the 2021 version of the 49ers has seen a number of their players have trouble getting healthy during fall camp.
After Tuesday's practice, 49ers head coach Kyle Shanahan was asked about a few players, Jaquiski Tartt and Jalen Hurd.
Shanahan on Jaquiski Tartt
Safety Jaquiski Tart remains on the physically-unable-to-perform list (PUP) list with a toe injury. He was seen on a side field getting in some work during practice, creating hope that he might return soon for the 49ers.
Shanahan was not optimistic about his return when he spoke with reporters.
"Not moving very fast right now," Shanahan said of Tartt's progress. "I mean, he hasn't been out there. I know he missed some time with COVID. I don't know how long he's going to stay on PUP, but I don't see him coming back anytime soon right now."
Shanahan was asked whether or not Tartt would return this season for San Francisco, and he sounded very uncertain.
"We think he should, with the timeline and everything," he added, "but it is bothering him. He isn't ready to go yet. We thought he would be with the time that's been given. He isn't, and that is just a fact, so it is what it is…I don't see it as day-to-day right now. I know he's not where he wants to be or where we want him to be. It's going to take some time."
In the meantime, the 49ers signed safety Ha-Ha Clinton Dix, per ESPN's Adam Schefter.
Shanahan on Jalen Hurd
Kyle Shanahan also provided an update on Jalen Hurd, a former wide receiver out of Baylor and running back at Tennessee, that the 49ers spent a third-round pick on in the 2019 NFL Draft.
"He just didn't feel right this morning," Shanahan said.
He also elaborated on whether the injury hurts Hurd's chances of making the 49ers' 2021 roster.
"I mean, it hurts it," said Shanahan on Hurd's chances going forward. "I know he's battling back from a serious injury. And we know potentially he has and the upside on how much we think he can help us. But, he's got to show that. There's not a lot of time left. We want to be smart with him. I know that some things were bothering him today. We were smart with him, but hopefully, he can get into a groove where he has a chance to go out there and play some football and give himself a chance to make this team."
Jalen Hurd in the 2019 Pre-season
49ers fans were excited about Hurd after watching him flash his potential in the 2019 preseason. In Week 1, he hauled in three catches for 31 yards and two touchdowns against the Cowboys. It was an impressive pre-season debut.
Unfortunately, that was the last time 49ers fans saw Hurd on the football field. He had a fracture in his back after that game with the Cowboys that put him on injured reserve for the 2019 season. He also tore his ACL in August of 2020, losing that whole season to injury as well. Struggling to stay healthy has been a huge problem in his NFL career.
It's a sad story for his NFL career, because Hurd had quite the college profile; piling up stats as a receiver and a running back during his days at Tennessee and Baylor. He had over 4,200 yards from scrimmage during his four seasons in college; with over 2,800 rushing yards and over 1,400 receiving yards. He was an incredibly versatile and dynamic playmaker, when healthy.
(Photo by Ezra Shaw/Getty Images)