INTEL: One school moves into the lead of Bronny James recruitment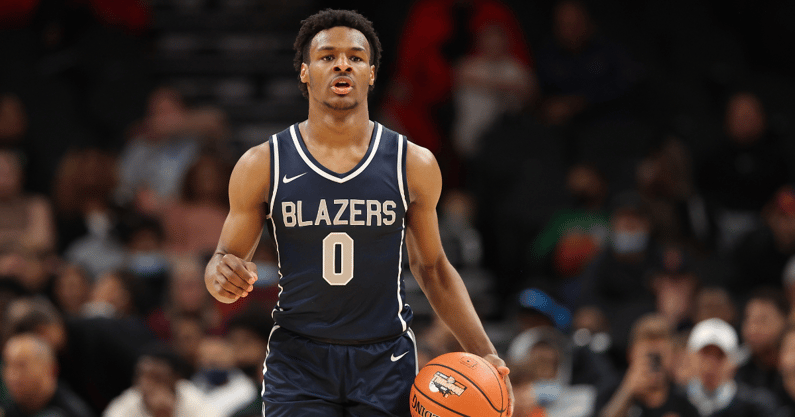 Bronny James is On3's No. 38 ranked player in the 2023 class. The 6-foot-3 point guard finished Nike's Peach Jam averaging 15.8 points with a 2.5-to-1 assist-to-turnover ratio. 
As we noted previously, this recruitment has been very quiet. Even after ESPN's Paul Biancardi reported in an ESPN+ article last week about five potential schools of interest, there has not been much information floating around outside of On3's reports.
In our intel piece yesterday, we reported that sources said that Michigan and UCLA were not actively recruiting James. This leaves Oregon, Ohio State and Southern California as the three active schools that have been made public. 
After a collection of calls, texts and conversations with sources, I have submitted an expert pick and feel like we are at a pace to publish a ranking of the contenders article. 
1. Oregon
Dana Altman has been on quite the roll on the recruiting trail recently. The Ducks picked up a pair of five-star recruits in the last month: Mookie Cook and Kwame Evans. They also landed an early commitment from four-star Jackson Shelstad.
There are many ties between the James family and Oregon. The connections mostly center around Nike. Oregon is the flagship school for the Nike brand. LeBron James and Nike have done business together with SpringHill Company. And LeBron has signed a lifetime contract with Nike as an apparel brand. 
There is also a tie between Bronny James and Mookie Cook. The pair were travel teammates with the North Coast Blue Chips team in middle school. Cook also spent his summer playing a young LeBron James in a SpringHill Company-produced movie called Shooting Stars.
Oregon's chances: 50 percent
2. Southern California
USC is the local school. Bronny James is entering his senior year at Chatsworth (Calif.) Sierra Canyon. Their high school campus is 45 minutes away from USC. LeBron James is under contract with the Los Angeles Lakers. The James family is also heavily involved in the entertainment industry. 
In addition, James has ties to the current team as he is a former high school teammate of USC freshman Kijani Wright. 
USC's chances: 25 percent
3. Ohio State
Bronny James was born in Cleveland, Ohio and his dad famously grew up in Akron, Ohio. LeBron has publicly stated if he went to college, he would have gone to Ohio State. 
Intel says the two have gone past the formalities of mutual interest and are looking toward visits. 
Ohio State's chances: 25 percent
Final intel
These three programs are clearly involved with Bronny James. Sources have said that James reached out to a group of schools around Peach Jam to express interest in each program. Oregon, Southern California, and Ohio State were among the schools. 
Speaking with sources close to the situation, the ties to Oregon are deep. We are told there is comfort with the situation, the circumstances and the program. 
We are told James is going to go through the process. At this point, the plan is to take virtual visits, Zooms and in-person visits to go through the whole experience. Sources tell us that at this point, heading into visits, Oregon has a lead and that James is looking like he will end up in Eugene. 
As things continue to progress, and anything new comes about, On3 will be sure to keep you up to date. As we learn about visits, official offers, and any new schools that may jump into the mix. However, at this time, signs are pointing directly toward Oregon. 
On3 Recruiting Prediction Machine
This afternoon I set my expert pick in On3's Recruiting Prediction Machine (RPM) for Bronny James to choose Oregon.
The On3 engineering group teamed up with Spiny.ai to create the industry's first algorithm and machine learning-based product to predict where athletes will attend college. Starting from the ground up, On3 built an entirely new product that utilizes data, human expertise, and machine learning.