INTEL: Ranking the contenders for 4-star Chris Johnson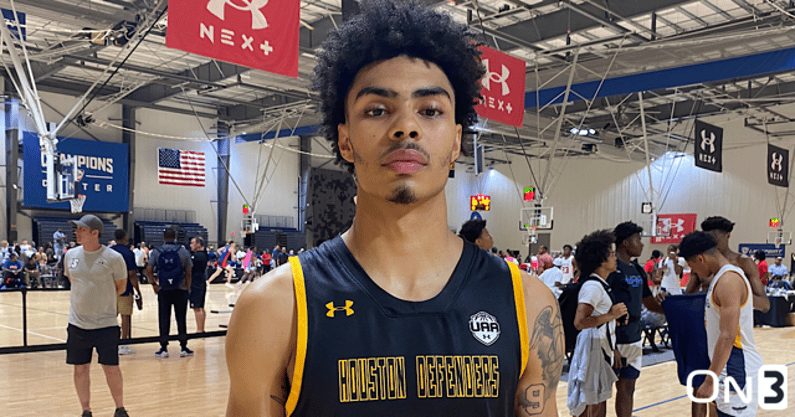 Chris Johnson is a 2023 On3 Consensus four-star prospect. This summer, the 6-foot-4 point guard helped lead his Houston Defenders travel program to the Under Armour Circuit title. 
On3's Joe Tipton broke the news two days ago Johnson would be committing on August 2. Tipton said Johnson was considering Alabama, Kansas, Ole Miss, and Arkansas.
Let's rank the contenders.
1. Kansas
Kansas is in a peculiar situation. They are coming off a national championship, but due to allegations, the school was forced to pull two coaches off the road in July. Still, as one high major coach told me, the train doesn't stop.
Kansas was the second official visit Johnson took. 
Kansas's chances: 90-percent
2. Alabama
Alabama had Johnson's eyes with the pace at which they play. They push the ball and spread the floor. While Johnson isn't the best shooter, he is a paint-touch point guard who can deliver passes in the flow of the offense. The fit, well, it fits. 
Alabama's chances: 5-percent
3. Ole Miss
Brock Morris did a good job of getting Ole Miss involved here. Johnson is good friends with current Runnin' Rebel freshman Amare Abram. Johnson talked about how much Abram liked the situation and how he was recruiting him to join him in Oxford. 
Ole Miss's chances: 5-percent
Final intel
Despite having two coaches off the road, the Jayhawks made Chris Johnson know he was a priority. Kansas has had a lot of success with multiple point guards on the floor, especially when one of them has the size and touches the paint often. The stylistic fit is there.
Johnson's only other official visit was to LSU when Will Wade was still the coach. The Texas-based point guard set his commitment date soon after ending his Kansas visit. 
On3's Recruiting Prediction Machine
I have placed my expert pick in On3's Recruiting Prediction Machine (RPM) for Chris Johnson to choose Kansas. I set my pick with 75-percent confidence.
The On3 engineering group teamed up with Spiny.ai to create the industry's first algorithm and machine learning-based product to predict where athletes will attend college. Starting from the ground up, On3 built an entirely new product that utilizes data, human expertise, and machine learning.