INTEL: Ranking the contenders for 5-star KJ Evans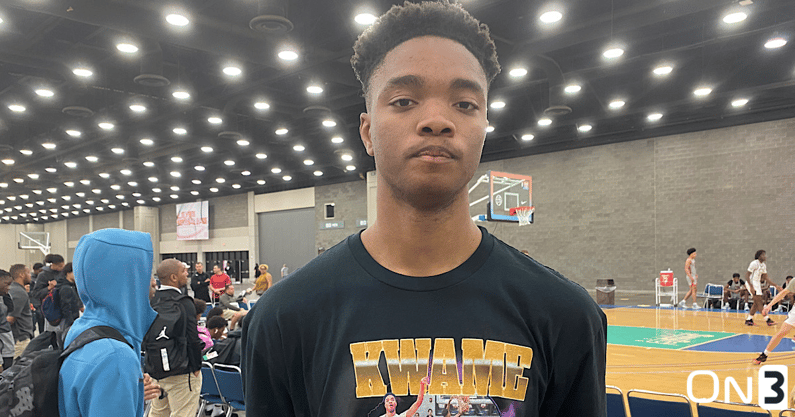 Kwame "KJ" Evans, Jr. is the 2023 On3 Consensus No. 3 ranked player. The 6-foot-10 Evans started to hit his stride in June when he finished top ten in scoring at the NBPA Top 100 Camp. He followed that up with 13 Nike EYBL games, averaging 12-points, 7.9-rebounds, 2.2-assists, and 1.3-steals per game. 
Evans helped lead his Team Durant travel ball team to the Final Four of Nike's Peach Jam. He started this season for Montverde (FL) Academy helping lead his team to a coveted Geico National Championships. 
When On3's Joe Tipton broke the news of Evans's August 2 commitment date, he also reiterated the five-star's top four schools, Arizona, Auburn, Kentucky, and Oregon.
Evans took official visits to each of his four finalists. He also added a last-minute official visit to Central Florida on June 25. 
As of pressing publish on this piece, based on the sourced intel, here is how I rank the contenders for five-star KJ Evans.
1. Oregon
Oregon has been right in the thick of this recruitment since the start. Dana Altman zeroed in on Evans and has been right there each step. Including being – very noticeably – front and center for every one of Evans' games at Peach Jam. 
Oregon has a plan for the unique nature of Evans' game that checks the boxes for Evans and his group. There is also the Nike factor with Oregon, and Evans plays high school and travel ball for two high-powered Nike programs. 
Oregon's chances: 55-percent
2. Arizona
Arizona was all the buzz in the May time frame. Evans spoke about the relationship he built with Tommy Lloyd, which played a huge factor. 
When he visited Arizona, Evans could see the Wildcats' stylistic plan for him. He liked the idea of the stretch-four in Lloyd's system, who could dribble, pass, and shoot.
Arizona's chances: 25-percent
3. Auburn
Auburn opened Evans' eyes with how they handled Jabari Smith. Evans is a unique talent; his size, length, skill set, and how he moves are different from most. Jabari Smith is similar, and after a season at Auburn, people mentioned him as a potential No. 1 overall draft pick. 
While Auburn is a player, and Bruce Pearl was visible at most of Evans' Peach Jam games, intel suggests they are third in this two-team race.
Auburn's chances: 10-percent
4. Kentucky
Anytime John Calipari zeroes in on a player, they are a factor. However, in the case of Evans, arrows have been pointing away from Kentucky for quite some time now. A look at Kentucky's recruitment, they just got Justin Edwards and are closing in on Ugonna Kinglsey. The Wildcats are still in the mix for Aaron Bradshaw as well. It seems both parties have amicably moved in different directions. 
Kentucky's chances: 9-percent
5. Central Florida
These guys were just added to the list because he took a visit there. They are not a real threat in this recruitment, but because they got him on campus, crazier things have happened.
UCF's chances: 1-percent
Final intel
KJ Evans has done a great job of keeping things close to the vest. While my percentages are not overwhelming, I have gathered enough intel here to go ahead and put in a pick and write a piece in Oregon's favor. 
Oregon has been the presumed leader for much of Evans' recruitment. The interesting part was that the six-ish week period where Arizona was thought to be the leader was right after his Oregon official visit. 
Oregon is recruiting around Evans, and intel suggests they have made that clear with him. Sources close to the recruitment say the Ducks have been very honest with the players they are going after and how they fit within their style and with Evans. Sources say Oregon wants to utilize the forward's skill and size with different looks, playing him in various spots on the floor to create opportunities.
Watching Evans at Peach Jam, Oregon head coach Dana Altman was front, center, and present at each of Evans's games. Arizona head coach Tommy Lloyd was not seen at all of Evans's games. While this may seem minor, every little piece plays into a commitment when coming down the final stretch of a player's recruitment.
There is also the Nike factor which cannot be overlooked. In speaking with Evans, he has been very open about how he was taken aback by his trip to the Nike facility. He also plays for a featured Nike High School (Montverde (FL) Academy) and a featured Nike travel ball team (Team Durant). 
While a lot of the public smoke is around Arizona, there is enough intel to put in my pick with a lean toward Oregon. 
On3's Recruiting Prediction Machine
I have placed my expert pick in On3's Recruiting Prediction Machine (RPM) for KJ Evans to choose Oregon. I set my pick with 55-percent confidence.
The On3 engineering group teamed up with Spiny.ai to create the industry's first algorithm and machine learning-based product to predict where athletes will attend college. Starting from the ground up, On3 built an entirely new product that utilizes data, human expertise, and machine learning.