INTEL: Ranking the contenders for four-star Jason Asemota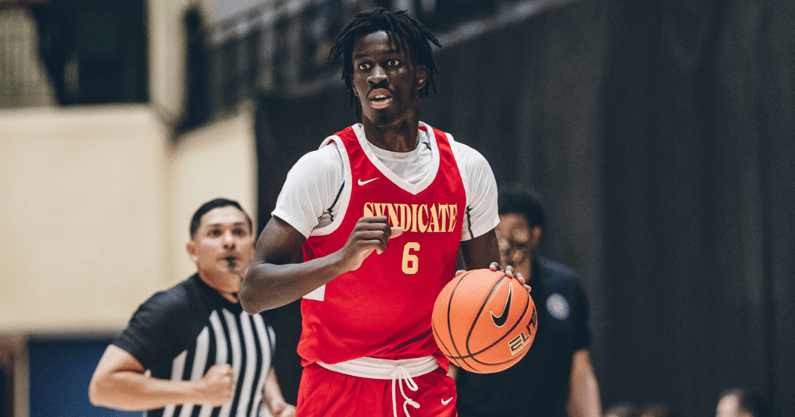 Jason Asemota is the 2024 On3 Consensus No. 13 ranked player. The 6-foot-8 small forward averaged 17.2-points and 3.7-rebounds on 3.2-threes made on Nike's EYBL Circuit in July.
Earlier this week, Asemota announced through On3's Joe Tipton he was down to a final eight schools: Arizona State, Baylor, Kansas, LSU, Memphis, Ohio State, Oregon, and Stanford.
The four-star has taken two unofficial visits to this point, Arizona State and Baylor. The Gilbert (AZ) Hillcrest Prep wing has an official visit set to Baylor for August 26.
With an expert pick placed into On3's Recruiting Prediction Machine (RPM), let's review the intel as we rank the contenders.
1. Baylor
Baylor has made Asemota feel like a priority, staying in contact with him as much as they can. Coach Scott Drew loves shooting, and he has made it a point to ensure that Asemota's length and shooting fit perfectly with his style.
Baylor's chances: 90 percent
2. Oregon
Oregon has the Nike pull to Eugene, and Asemota has publicly mentioned Oregon among his top suitors for months. He has even mentioned Oregon as his dream school. There is a positional fit with Asemota to Oregon as Altman like the long wings.
Oregon's chances: 5 percent
3. Arizona State
The Arizona State campus is less than 15 miles away from Asemota's high school. There is a familiarity with the campus, the staff, and the league.
Arizona State's chances: 5 percent
Final intel
While Jason Asemota released eight schools, only one is in the mix.
Oregon is here because, throughout the process, Asemota has been vocal about the Ducks standing with him. However, while there has been talk about a visit, Asemota has not been on campus. Arizona State is here because they are one of two schools Asemota has visited.
But, in this recruitment, all signs point toward Baylor. They have left no question that Asemota is a priority. Coach John Jakus has done a great job building a relationship. The campus and environment checked the boxes on the visit and watch for any further questions o be answered on the upcoming official visit. Look for Baylor to be the choice, and look for this one to end sooner rather than later.
On3's Recruiting Prediction Machine
I have placed my expert pick in On3's Recruiting Prediction Machine (RPM) for Jason Asemota to choose Baylor. I set my pick with a 90 confidence rating.
The On3 engineering group teamed up with Spiny.ai to create the industry's first algorithm and machine learning-based product to predict where athletes will attend college. Starting from the ground up, On3 built an entirely new product that utilizes data, human expertise, and machine learning.