Introducing top-10 offensive tackles in Class of 2023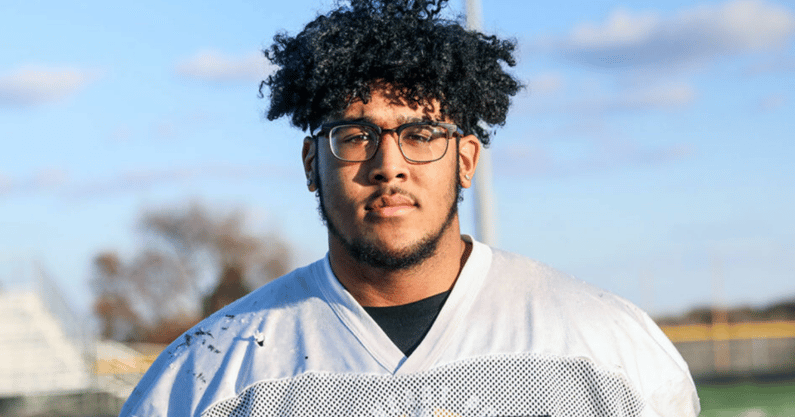 With Signing Day in the rearview mirror for the Class of 2022, the attention now turns to the junior class. It's a class that features three Five-Star Plus+ prospects. It also includes six offensive tackles in the top 100 in the country. On3 looks at the top 10 junior offensive tackles and where things stand in their recruitment.
Des Moines (Iowa) Southeast Polk
On3 Consensus: No. 5
On3 NIL Valuation: $19.4K
Status: Uncommitted
On3 RPM: Iowa 46.8%, Iowa State 33.6%, Notre Dame 6.9%, Ohio State 2.4%, Michigan 2.4%, Missouri 2.4%, Alabama 2.4% 
The Skinny: The narrative will be that five-star offensive tackle Kadyn Proctor is in Iowa, former teammate Xavier Nwankpa just signed with Iowa, he has visited Iowa many times, and he is a strong Iowa lean. All that may be true, but it still looks to be very early in the process. Top programs from all over the country had coaches in to check on Proctor the last few weeks. Alabama, Georgia, Michigan, Notre Dame, Ohio State, Texas A&M, and many others stopped by. Proctor is working on a plan to schedule visits for the spring.
Brockton (Mass.) Thayer Academy
On3 Consensus: No. 53
On3 NIL Valuation: $12.1K
Status: Uncommitted
On3 RPM: Georgia 17.6%, Rutgers 17.6%, Virginia 17.6%, Penn State 17.6%
The Skinny: Samson Okunlola, a four-star offensive tackle, recently admitted he's still in the early stages of his recruitment and is open to almost every school he's been in contact with. Okunlola is still working out his offseason plan, between visits and camps and added that he could opt not to take any more unofficial visits this spring altogether. Instead, he'd close in on the five schools he wants to make official visits to and spread those final five visits between the summer and fall and decide "whenever I'm ready."
Lee's Summit (Mo.) North
On3 Consensus: No. 64
On3 NIL Valuation: $10.9K
Status: Uncommitted
On3 RPM: Oklahoma 35.3%, Iowa 17.9%, Missouri 6.3%, Nebraska 6.3%, Cincinnati 6.3%, LSU 6.3%, Notre Dame 6.3%, Michigan 6.3%
The Skinny: Cayden Green was busy in January, taking unofficial visits to Michigan, Cincinnati and Alabama. But many insiders believe this is an Oklahoma, Missouri, Iowa and Baylor race at this point. The Tigers signed teammate and close friend Armand Membou in the 2023 class. Plus, Mizzou coach Eliah Drinkwitz is going all-in to land the coveted four-star offensive tackle prospect. Heck, he even showed up at Lee's Summit North in a dump truck during the evaluation period, a move that blew Green away. He'll likely continue to visit national programs throughout the spring that could change things up.
Mount Pleasant (SC) Oceanside Collegiate Academy
On3 Consensus: No. 67
On3 NIL Valuation: $9.6K
Status: Uncommitted
On3 RPM: South Carolina 23.9%, Clemson 23.9%, Notre Dame 23.9%, Georgia 8.3%, North Carolina 8.3%
The Skinny: With more than 20 offers on his resume, Monroe Freeling has made numerous trips to regional schools like South Carolina, Clemson, Georgia and North Carolina. All of the schools — especially in-state Clemson and USC — have made the four-star offensive tackle a priority. He's also been to Notre Dame a couple of times and the Irish interest him.
No. 5 offensive tackle Bo Hughley
Fairburn (Ga.) Langston Hughes
On3 Consensus: No. 72
On3 NIL Valuation: $21K
Status: Committed to Georgia
The Skinny: Bo Hughley announced an early commitment to UGA more than five months ago. Hughley said he loved how Georgia made him a priority right out of the gate and he built a strong bond with them. However, Hughley did recently take a junior day visit to Auburn, and he told On3's Auburn Live he "liked everything" about the visit.
Rock Island (Ill.) Alleman
On3 Consensus: No. 77
On3 NIL Valuation: TBD
Status: Uncommitted
On3 RPM: Notre Dame 86.2%, Iowa 4.4%, Michigan 1.6%, Nebraska 1.6%, Minnesota 1.6%
The Skinny: Multiple visits to Notre Dame and Iowa have the Irish and Hawkeyes trending in the On3 RPM for Charles Jagusah. However, he is planning on taking another round of unofficial visits in the spring to places like Notre Dame, Iowa, Michigan and other schools "within driving distance." He said that will help him narrow his focus some and then schedule official visits. "Originally, I was hoping it would be a little earlier," he said recently. "I wanted to get it out of the way and focus on playing. But the longer it goes, the more factors I realize there are. It makes everything a little harder, so I'm not sure right now."
Monroe (La.) Neville
On3 Consensus: No. 104
On3 NIL Valuation: TBD
Status: Uncommitted
On3 RPM: Michigan 7.7%, Louisville 7.7%, Oklahoma State 7.7%, Nebraska 7.7%, USC 7.7%, Ole Miss 7.7%, TCU 7.7%, Texas 7.7%, Florida State 7.7%
The Skinny: Zalance Heard appears to be the definition of wide-open early on in the process. The 6-foot-5 ½, 295-pounder from Monroe (La.) Neville is one of the nation's top junior two-way line prospects in the country. Some schools have told him they want him at offensive tackle, while others covet him on the defensive line. Texas, Nebraska and Florida State are the most recent major offers on his list. One school to watch is Oklahoma State, a school he visited in January.
Provo (Utah) Timpview
On3 Consensus: No. 117
On3 NIL Valuation: $9.1K
Status: Uncommitted
On3 RPM: Utah 43.8%, USC 15.3%, Oregon 15.3%, Stanford 15.3%
The Skinny: This might be one where the On3 RPM is a little off because Spencer Fano has so many family connections with BYU. Plus, it's right down the street. His brother, Logan Fano, was the Cougars' top overall signee in the 2021 class. Spencer Fano is also a member of The Church of Jesus Christ of Latter-day Saints. That hasn't stopped him from visiting other schools, like in-state Utah, USC, Oregon and Stanford. But BYU should be listed as sitting in the driver's seat.
East St. Louis (Ill.) High
On3 Consensus: No. 175
On3 NIL Valuation: $11.3K
Status: Uncommitted
On3 RPM: Missouri 19.1%, Alabama 6.7%, Georgia 6.7%, Auburn 6.7%
The Skinny: Missouri has transformed its relationship with the coaches at East St. Louis under Drinkwitz. Signing Five-Star Plus+ Luther Burden from ESL is something that certainly will help the Tigers with Miles McVay. He will also look at national programs, like Alabama, Georgia, Oregon, USC and Miami, which could make this recruitment one to watch in the spring.
Belmont (NC) South Point
On3 Consensus: No. 203
On3 NIL Valuation: TBD
Status: Uncommitted
On3 RPM: NC State 31.7%, Notre Dame 11.1%, Virginia Tech 11.1%, Duke 11.1%
The Skinny: Sullivan Absher has been to NC State a few times, including most recently for a junior day on Jan. 22. The Wolfpack have the lead in the On3 RPM and were one of the first schools involved with him. Kentucky, Louisville, Michigan, Michigan State, North Carolina, Notre Dame, Penn State, Stanford and Wake Forest are others to watch as his stock continues to grow.