Is Iowa a legit Playoff contender? The Hawkeyes certainly are best in Big Ten West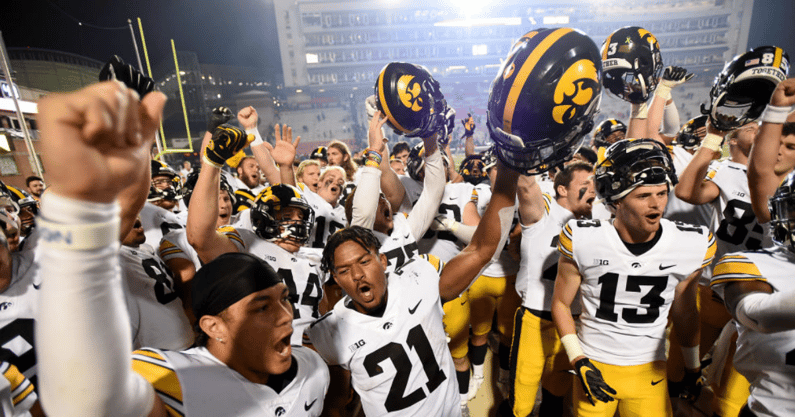 If there was any lingering doubt about Iowa being the favorite to win the Big Ten West, it was erased Friday night when the fifth-ranked Hawkeyes blasted host Maryland 51-14 in a game that was over by halftime.
That brings up a new question: Is Iowa — which has won 11 in a row dating to last season — the Big Ten's best chance for a College Football Playoff team? Conveniently we won't have to wait long to find out: The Hawkeyes play host to No. 4 Penn State next Saturday in what looks to be the last truly difficult game on their regular-season schedule.
Iowa (5-0 overall, 3-0 in the Big Ten) has one of the best defenses in the nation, and the Hawkeyes forced seven turnovers in routing the Terps. Five of those came in the first half, including four interceptions, as the Hawkeyes led 34-7 at halftime. Friday night, the offense showed up, too, as Iowa finished with 428 total yards.
It's fair to wonder if that relative offensive explosion was Iowa's offense finally hitting its stride or Maryland's defense just collapsing. Thing is, beating six of the seven opponents left on the schedule won't require a high-powered offense. After next week's matchup with Penn State, which is unbeaten heading into Saturday's game with Indiana, the Hawkeyes finish out against the six other Big Ten West teams. That portion of the schedule isn't daunting at all: Purdue, Wisconsin, Northwestern, Minnesota, Illinois and Nebraska. That's why it appears Penn State is all that's standing between Iowa and a 12-0 regular season.
Iowa winning the West seems a sure bet. Then comes the league title game. It could be a rematch with Penn State. It could be Ohio State. Heck, it could be Michigan or Michigan State. The last time Iowa started 5-0 was 2015, and the Hawkeyes finished 12-0 in the regular season. But they lost to Michigan State in the Big Ten title game.
This season's defense is better than the 2015 unit, thanks to 10 upperclassmen in the starting lineup, headed by linebacker Jack Campbell, end Zach VanValkenburg and corners Riley Moss and Matt Hankins. The continued development of the line is the key to the offense; there are three new starters up front, and the ground game hasn't been as productive as usual. The Hawkeyes did run for 145 against Maryland; still, Iowa is averaging less than 4.0 yards per carry through five games. Truthfully, that's good enough to win the Big Ten West. Anything more, though, might be pushing it.
As for the Terps (4-1, 1-1), they didn't look ready for prime time. They suffered a big blow when star wide receiver Dontay Demus sustained a serious knee injury on a kickoff return early in the second quarter and had to be carted off the field. Demus fumbled on the return and Iowa scored quickly for a 17-7 lead, and the rout was on.
Maryland quarterback Taulia Tagovailoa came in with 10 TD passes and one pick; he now has 12 TD passes and six interceptions. Iowa has 12 picks on the season.