Is Bishop Boswell the Eastern Seaboard's top 2024 point guard?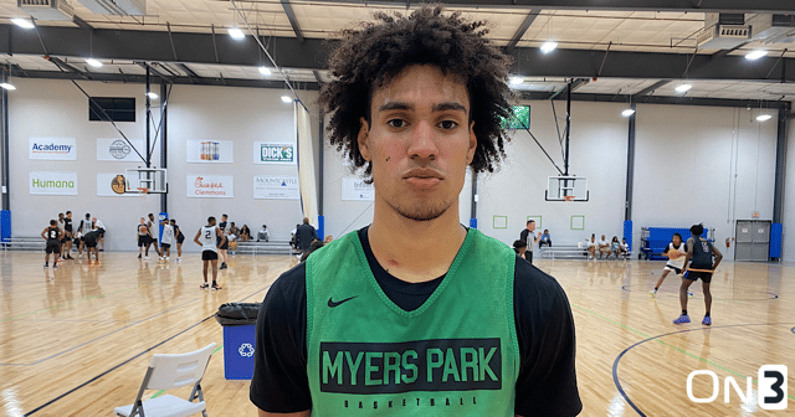 You win in college with guards. They are an extension of the coach on the floor, the player you trust to make everything run with the ball. Bishop Boswell has emerged as a must-watch point guard out of North Carolina.
"I do a good job getting downhill," Boswell told On3. "Coming off ball screens and making plays. I'm changing pace well, seeing the floor, and slowing the game down. I watch a lot of Chris Paul in the ball screens and Devin Booker with how he gets to his spots."
Boswell has been a dual-sport athlete. He was a 6-foot-4 wide receiver who was gaining D-I interest. A transfer from Charlotte (NC) South Mecklenburg to Charlotte (NC) Myers Park also came with Boswell giving up football to focus on basketball.
"I'm not going to lie," Boswell said. "There are some days I miss football, but I needed to focus on just one sport and see how good I can be."
Boswell is a paint-touch point guard. He plays with a great pace, is balanced in the lane, and delivers passes on target and on time. You see the former football player come out with his toughness. His ability to defend at the point of attack. He is aggressive in the passing lanes and unafraid to take on any matchup.
Boswell's recruitment
Houston was the first school to offer Bishop Boswell early in his freshman year. He picked up an offer from NC A&T during his sophomore season.
On June 15, Boswell added offers from South Florida and Wake Forest. During this entire live evaluation period, all four programs had coaches watching; he also had a host of coaches following him.
Austin Swartz is a premier shot-maker
Shot-making is one of the most important skills in today's game. A guard who is able to create his shot and then knock it down is valued at every level. There may not be any better shot creators/makers in the region than Austin Swartz.
Swartz has yet to pick up any high-major offers, but after back-to-back 25-point outbursts on Saturday, that should change. The 6-foot-4 class of 2024 guard is confident off the bounce in the half-court. He gets to his spots and has a quick release with range that goes out to 30 feet.
Houston, South Carolina, Tennessee, Clemson, Georgia, Florida State, Richmond, and others had coaches watching on Saturday. This recruitment feels like one where the first offer comes, and a landslide of more will follow.
Jaeden Mustaf puts up consistent numbers
Jaeden Mustaf transferred from Hyattsville (MD) DeMatha to Matthews (NC) Carmel Christian. The 6-foot-5 guard comes in with offers from Indiana, Georgetown, Xavier, Maryland, Virginia Tech, and others.
What stands out about Mustaf's game is he does a bit of everything. The 2024 guard is strong on the ball and confident in the half-court. He is an excellent rebounder for his position and bouncy at the rim, cutting off-ball with a purpose.
Jaeden's father, Jerrod Mustaf, was the 17th pick in the 1990 NBA Draft. Carmel Christian is the defending state champion, and Mustaf will be the focal piece of this year's team. He should be hunting triple-doubles all season.