Is Duke becoming the team to beat for 4-star Xavier Booker? Notre Dame, Ohio State working to get final visit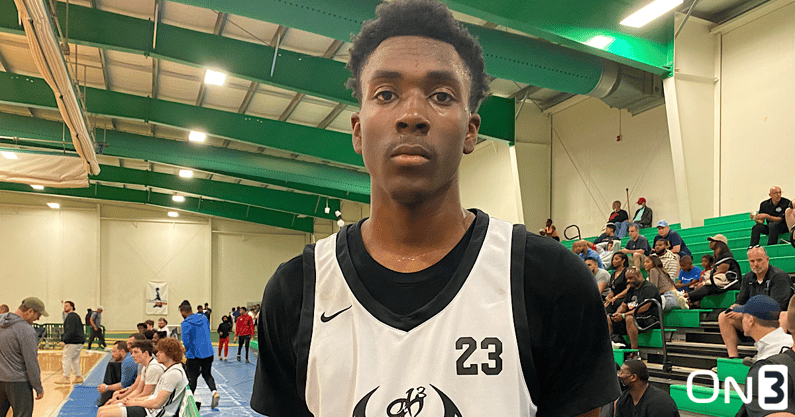 Four-star Xavier Booker has been one of the most talked-about prospects since the start of 2022. The 6-foot-10 forward led his Indianapolis (IN) Cathedral High team to a state title and has started the travel ball season off with a lot of buzz.
"I'm a stretch-big," Booker told On3. "I can shoot the ball, stretch the floor, bring the ball up the court, take my defender off the dribble, and facilitate. I've gotten stronger recently, which has built my confidence in my game. I like watching Giannis Antetekoumpo, how he creates contact, Kevin Durant with his ball-handling, and how he creates off the bounce."
Playing with his George Hill All Indy program, he did not slow down at Southern Jam Fest, averaging a double-double in his team's four games. On3 caught up with Xavier Booker this weekend to get the latest on his recruitment.
"I have taken four official visits so far, Indiana, Purdue, Michigan State, and Kansas State," Booker said. "I have one more junior year visit left. I've been talking to Ohio State and Notre Dame."
Booker talks recruitment
Indiana: "I learned a lot about the campus atmosphere and the academic side. I already knew about them athletically; they are a good program. They have a new coach, Coach (Mike) Woodson. He is a really down-to-earth dude who cares about his team. I got an inside look and met with people on the campus and academic advisors."
Michigan State: "Coach (Tom) Izzo is a really down-to-earth dude. I mean, on tv, you may see him yelling and stuff, but when you get to know him and start talking to him, he really cares for you and your future. My favorite part of the visit was when my mom, dad, and I got to sit down with Coach Izzo and just talk. They compare me a lot to Jarren Jackson and how he played the four for them."
Kansas State: "That visit was with the old staff. The new staff hasn't really made contact with me like that."
Purdue: "I took a lot away from that visit. They're a big man school, and they showed me how I fit in with the big men they have had. They like how I stretch and space the floor; they would play a five-out with me there."
Notre Dame: "The relationship I have with the coaches. I have a really strong relationship with Coach (Mike) Brey and Coach (Anthony) Solomon. We talk every day, and they have shown they really care about me. I can see myself fitting into their program and their system. They also have outstanding academics there."
Ohio State: "They compare me to guys like EJ Liddell, and I can see the resemblance there. I think I could definitely come in as a freshman and play big minutes for them."
The Duke factor
"I am talking to Duke really heavy right now," Booker said. "They should come in and offer soon; at least, that is what I am hoping. I mean, it's Duke."
Read Shaw's Scoop from the Southern Jam Fest
Booker's take
"As of right now, I think my recruitment will pick up again," Booker said. "I don't have a time frame on a commitment yet.
"I'm going to be looking for somewhere that I fit into every aspect of the school. I want to have a good relationship with the coaches and fit into the coaching style and how they play. The academics are important, too; I need to go somewhere they care about me and my grades.
On3's take
Xavier Booker is a lengthy lefty who just moves in a way most his size does not. He has a lot of pop in his step and fluidity in his movements. While he is a more perimeter-based big right now, you see the ability to alter shots and the rim and rebound in traffic. He will need to get stronger and maybe pay more attention to the rebounding, but there is upside as a switchable type defender. Booker is a good spot shooter with consistent three-point range. He can push the break and has counters when he gets cut off, but he will need to work on not getting too deep with the ball. He runs the floor well. Strength will be a bit thing, will help with his stamina. There is immense upside here.