Is it Clemson or bust for ACC College Football Playoff chances?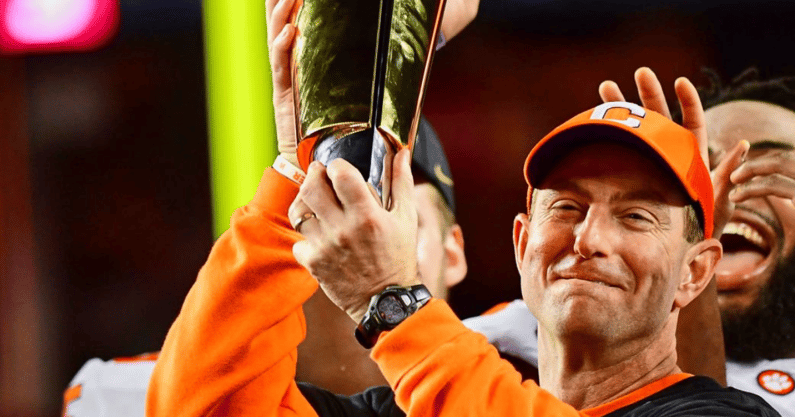 Since the College Football Playoff's inception, the ACC has made the field seven times. All but one of those selections, though, went to the Clemson Tigers. With Dabo Swinney's program being the ACC's perennial candidate, some wonder what it would take to get another team in not from Death Valley. ESPN's Greg McElroy says that the conference is closer to achieving that goal than we think.
McElroy discussed the ACC's potential in the CFP field during an episode of 'Always College Football'. He believes the best four teams get in and, because of some blunders, other ACC programs have removed themselves from consideration in years past.
"A lot of people have said Clemson always gets the benefit…Ultimately, we've seen teams ala North Carolina in 2015 that was an onside kick away from beating Clemson and punching their ticket to the College Football Playoff. A couple of years back when Miami was making a run, they were sitting at No. 2 in the country (and) played poorly the last few games of the year," said McElroy. "I'm not one that says the playoff rewards brands. I think they reward the four best teams and regardless of what those four best teams history is, they will get in."
Last season was a major opportunity for the other ACC programs to have accomplished this. Clemson had a 'down' year where they finished 10-3 and were not in playoff discussions the entire season. Wake Forest and Pittsburgh finished with better records and NC State finished above them in the Atlantic Division. For different reasons, McElroy still says all three shot themselves in the foot to not make it in.
"If Wake Forest last year is undefeated and don't get beat badly by Clemson, are they in the mix? If Pitt doesn't play poorly at times at the beginning of the year? Sure. Is NC State, who a lot of people think is a dark horse this year, could they make a run? Without question," McElroy said. "All of those teams can make the College Football Playoff. The problem is we've seen (waste) many occasions where those stubbed their toe."
All hope isn't lost on the east coast, though. McElroy says it's important that the conference shifts the narrative of the ACC being behind other top conference. If they can do that, he thinks multiple ACC programs could have their shot this season to make it to Los Angeles.
"It's a little bit more difficult to generate good will because people perceive the league as not being quite as strong as the Big Ten or the SEC, fair or unfair. It has played itself out over the course of time…I think the ACC will have a playoff team this year. My money is on Clemson but I wouldn't at all be surprised if it were Pitt, NC State or even North Carolina."