It's 'Rivalry Week,' and all is right in college football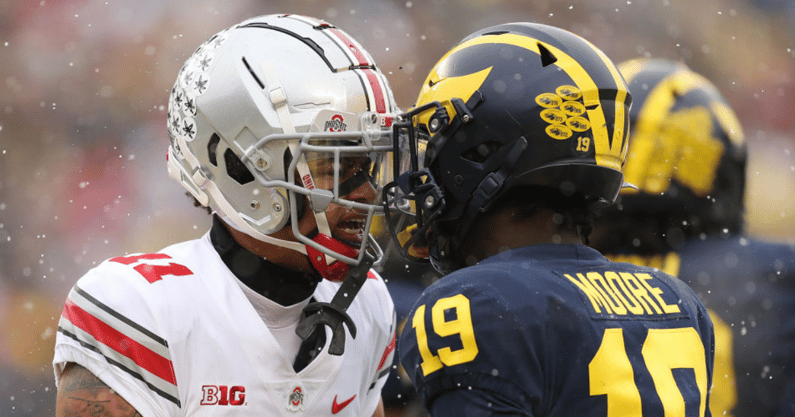 So much of what we guarded against in college football is now what we do. The sacrosanct has been despoiled. The old model is as obsolete as voice mail. Players may transfer without redshirting. Rosters may be remade in a winter. Paying players used to be a rules violation. Now it is the rule.
Forgive us, Reggie Bush, and please come get your Heisman.
The Big Ten and the SEC are generating so much money they are playing by different rules, too. They have warped the conference structure, purloining teams as it suits them regardless of the damage left in their wake.
The pursuit of money by conferences, by schools and by the athletes is leading the sport down a path with an unknown destination. College football off the field is a hot mess.
This week is why we have faith.
This week is the most vivid illustration of the appeal of the sport. Rivalry games are the wellspring of the passion that fuels college football, the explanation for why campus stadiums seat 100,000 and NFL stadiums seat 70,000.
This year, we focus our attention on No. 2 Ohio State and No. 3 Michigan because they are undefeated, because they are in contention for the College Football Playoff, because they're Ohio State and Michigan. I hesitate to call it The Game – Harvard and Yale got to that first – but this rivalry doesn't need a name. As far as the Buckeyes are concerned, Michigan doesn't warrant a name. The Ohio State athletic department email blast Sunday about the 43-30 victory over Maryland carried this subhead: "Up Next: TTUN"
That Team Up North, a relatively recent initialism, perhaps an offshoot of the older Buckeye game-week habit of crossing out the M's on campus signs. Even older than that is the refusal of Ohio State coaching legend Woody Hayes to refuel his car during a recruiting trip. "It's because I don't buy one goddamn drop of gas in the state of Michigan," Hayes explained to his passenger, assistant coach Ed Ferkany. "We'll coast and push this goddamn car to the Ohio line before I give this state a nickel of my money."
Michigan coach Jim Harbaugh, in his news conference Monday, referred three times to his Wolverines being "made of the right stuff," as if they are preparing for the new NASA Artemis mission to the moon. More important is whether Blake Corum's right knee will have enough of the right stuff for him to be Blake Corum. He rushed for 6.0 yards per carry against Illinois. The other three Wolverines backs rushed for half that.
In past years, all eyes have turned to the Iron Bowl. Auburn's struggles are well-documented, as they were last year, when the 6-5 Tigers flummoxed No. 3 Alabama for 58-plus minutes. The Crimson Tide trailed 10-3 when it took possession on its 3 with 1:35 to play. Bryce Young drove Alabama 97 yards in 12 plays for the game-tying touchdown, then led the Tide to a 24-22 victory in the fourth overtime. That is the definition of a Heisman moment.
This season, both teams have stepped down a rung – Auburn is 5-6, and Alabama is No. 8 – but in this rivalry, as in Columbus and Ann Arbor, it matters not. Verne Lundquist, the retired voice of the SEC on CBS for 17 seasons, recently told Bryan Curtis on "The Press Box" podcast, "I grew up in Austin, so I was familiar with Texas and Oklahoma. I did Michigan and Ohio State once or twice. I've done USC and UCLA once or twice. There is nothing – nothing – to equal the passion surrounding Alabama and Auburn."
Alabama coach Nick Saban is 10-5 against Auburn. He is 110-15 against the rest of the SEC. "Most every team in rivalry games, it's a part of their legacy, in terms of, 'How did they do in the rivalry game?' " Saban said in his news conference Monday.
Legacy is important in college football. No. 13 Notre Dame plays at No. 5 USC on Saturday for the 93rd time. When the game is in L.A., they play at the end of the regular season, so this is where national championship hopes have died for both teams. Legacy is how the Trojans broke the Irish hearts in 1964, scoring the winning touchdown with six seconds remaining before Notre Dame, which didn't play in bowls back then, could finish undefeated and expect to be voted No. 1 in the polls. Legacy is USC's 35-point third quarter in 1974, and Notre Dame's green jerseys in 1977, and the "Bush Push" in 2005.
There is similar shorthand in the Egg Bowl, and the Apple Cup, and equally passionate in-state rivalries in Oregon, Arizona, South Carolina, Georgia and Florida. These games aren't life and death, as Virginia and Virginia Tech so sadly remind us. But they are college football life at its most vibrant, a gift from the sport to its fans.
Actually, if you think about it, it's the other way around.