Daily briefing: On the College Football Playoff, Lane Kiffin vis-à-vis Tommy Tuberville and the AAC race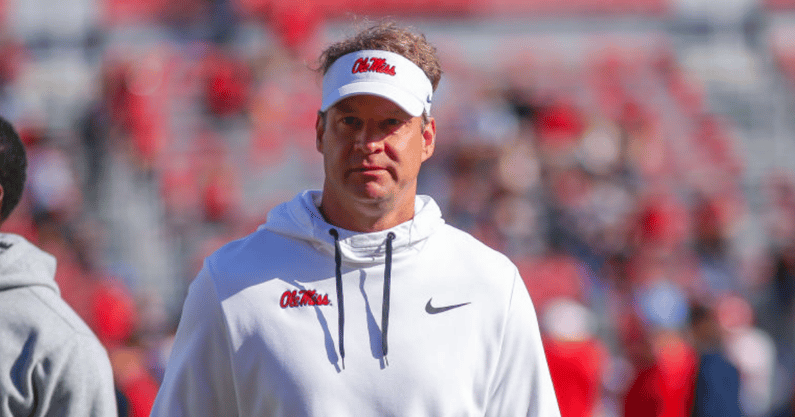 Ivan Maisel's "Daily Briefing" for On3:
College Football Playoff intrigue – or not
The latest iteration of the College Football Playoff rankings presents a lot of issues that will sort themselves out. The biggest unknown is the fate of the loser of No. 3 Michigan at No. 2 Ohio State. The next three teams – No. 4 TCU, No. 5 LSU and No. 6 USC – have a game/games against ranked opponents that will prevent them from coasting into the Playoff. One important note: The Horned Frogs and Trojans will play teams ranked below them, while the Tigers will play No. 1 Georgia. If TCU loses, it would be a one-loss non-champion and, in theory, remain a viable Playoff candidate. But there lurks No. 7 Alabama, twice a loser to (for now) top-10 teams on the final play of the game. It's the longest of shots, but wouldn't you know that the leading candidate to become the first two-loss team in nine seasons of the Playoff resides in Tuscaloosa?
Will Lane Kiffin follow in Tommy Tuberville's footsteps?
Tommy Tuberville had his pine box, and we'll find out in a matter of days whether Lane Kiffin has his Twitter championship. As Ole Miss coach in 1998, the future senator dismissed rumors of his departure to Auburn by saying they'd have to carry him out of Oxford in a pine box. Two days later, Tuberville left, presumably on a pine jet. Kiffin executed a deft takedown of the journalist who reported Monday night that a deal had been made for him to go to Auburn. Kiffin met with his team Tuesday to make sure they remain focused. And, yes, Kiffin still could make the deal. He has yet to rule out leaving Ole Miss. Auburn wants its new coach in place early in December. The portal opens December 5 and the early signing period begins December 21.
Title-game scenarios in the AAC
The Sun Belt Conference had a moment or two early in the season, when Appalachian State won at Texas A&M, Georgia Southern won at Nebraska and Marshall won at Notre Dame. But here we are with two weeks remaining in the season and the Group of 5's berth in the Cotton Bowl looks as if it will come down to No. 19 Tulane, No. 22 UCF or No. 24 Cincinnati. The Bearcats (6-1 in the AAC) will host the Green Wave (also 6-1) on Saturday – a cold, rainy day is predicted, so advantage Cincinnati – and the winner will host the AAC championship game. The loser could end up tied with UCF (which plays USF) and Houston (Tulsa); both have two conference losses. In case of a three-way tie with those teams, the tiebreaker would be the highest-ranked team in the CFP rankings. That almost certainly would be UCF.