Daily briefing: On Maryland's bad history vs. Michigan, getting over the hump and 3-0 Tulane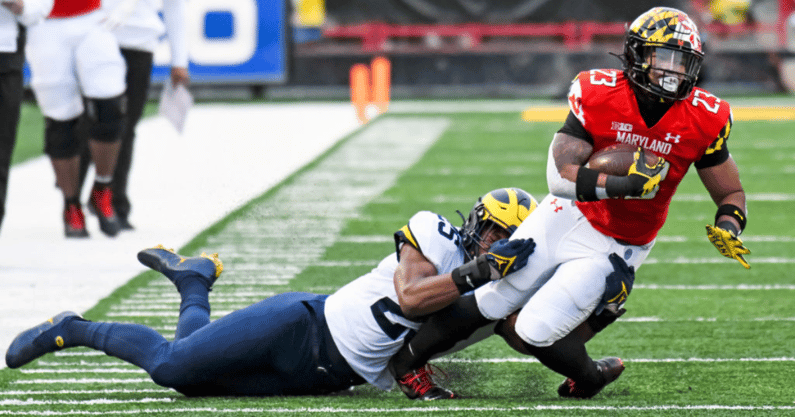 Ivan Maisel's "Daily Briefing" for On3:
Maryland needs to buck history against Michigan
Maryland defeated Michigan in 2014, the Terps' first season in the Big Ten. In the six games since, Maryland has been an underdog by an average of 19 points and hasn't even covered, much less won. The average score of the six games: 45-10. The No. 4 Wolverines are favored by 17 on Saturday, and as explosive as both offenses are, Michigan has a decided advantage in "hidden yardage." The Wolverines average 23 penalty yards per game to the Terps'  90, and Michigan's defense has allowed about half the yardage given up by Maryland's defense. Not to mention its Homecoming in the Big House. Maryland quarterback Taulia Tagovailoa is playing better this season, but he can't make up for all that.
Rivalry streaks can be hard to overcome
When a highly ranked team gets outplayed and finds a way to win – think Alabama 20, Texas 19 – we talk about the belief it takes to get over the hump. The same thing goes for rivalry streaks. No. 11 Tennessee, on paper, should handle No. 20 Florida easily. But the Vols have beaten the Gators only once in the past 17 tries. No. 10 Arkansas dominated No. 23 Texas A&M physically last year and beat the Aggies 20-10 for the first time since 2011. This season, the Hogs look like the better team again, especially with Texas A&M struggling on offense. Yet the Aggies are a two-point favorite at a neutral site. Is that how Arkansas players feel? Hogs fans? Is there still doubt? On paper, we should see eras end Saturday. It doesn't always work out that way.
Party like it's 1998 at Tulane
If you like omens, this is a good one: The last time Tulane started 3-0, the Green Wave finished 12-0. That was 1998, the handiwork of coach Tommy Bowden, quarterback Shaun King and little-known offensive coordinator Rich Rodriguez. In the 24 seasons since, Tulane has built a new stadium and won as many as eight games exactly once. But this may be different. It's a veteran team – 18 returning starters – and Willie Fritz's defense ranks in the top 10 in five defensive categories. Tulane won 17-10 at Kansas State last week, intercepting two Adrian Martinez passes and stopping the Wildcats on fourth down five times. Tulane is a 13-point favorite Saturday against Southern Miss.