Daily briefing: On Syracuse's offense, LSU WR Malik Nabers and Rutgers' punter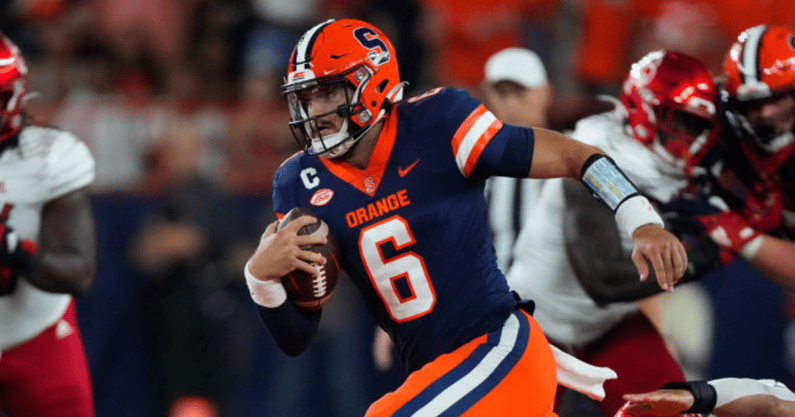 Ivan Maisel's "Daily Briefing" for On3:
Syracuse OC Robert Anae doing some work
Interesting subplot to Virginia's visit to Syracuse on Friday night: Orange offensive coordinator Robert Anae had the same job with the Cavaliers for the past six seasons. With Anae, Syracuse quarterback Garrett Shrader has blossomed. He's completing nearly two-thirds of his passes (.662) and has thrown eight touchdown passes, one fewer than in all of 2021. And without Anae, Virginia quarterback Brennan Armstrong has struggled. Through three games last season, Armstrong threw for 1,298 yards and 11 touchdowns; this season, it's 710 yards and two touchdowns. There's more to the story, of course – Syracuse's offensive line is experienced, Virginia's offensive line isn't. But both teams are in new offenses, and Anae is looking pretty good.
Brian Kelly stuck by Malik Nabers – and it has paid off
If there's such an award as Comeback Player of the Month – and if there isn't, I'm sure there's someone out there ready to sponsor it – it will be hard to find a better candidate than LSU sophomore wide receiver Malik Nabers. After his second muffed punt in the opener against Florida State, the one that the Seminoles recovered with 2:15 left, Nabers has been the Tigers' leading receiver with 11 catches for 171 yards, one touchdown and seven first downs. Brian Kelly is a veteran coach, he had seen Nabers work hard all spring and summer, and he stuck with him. Well, as a receiver, anyway. Nabers isn't returning kicks these days.
Rutgers P Adam Korsak doesn't like touchbacks
Attention, punting geeks: Rutgers fifth-year senior Adam Korsak has a streak of 136 punts without a touchback – and counting. The streak dates to 2019, the first quarter of the Scarlet Knights' last game of the season. "I got told to kick it in the end zone," Korsak, the All-Big Ten punter last season, pointed out. "I remember." It sticks in Korsak's memory because he has punted the ball 286 times in five seasons and had only five touchbacks. "The other four were an accident," Korsak said with a smile. "There is a bit of luck to it. People try to say there isn't." What's the big deal about a touchback? Isn't it better than a return? "I look at a touchback as a 10-yard return," said Korsak, who is from Melbourne, Australia. "We can get a fair catch at the 10 or a touchback at the 20." In three games this season, Korsak has punted 12 times and the Scarlet Knights have yet to allow a return.