4-star Jackson McAndrew recaps Wisconsin, Creighton visits; breaks down recruitment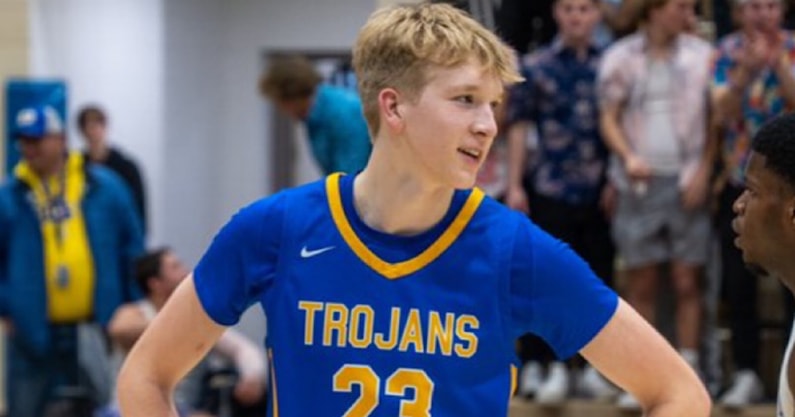 Jackson McAndrew is the No. 89 player in the 2024 On3 150. The 6-foot-8 forward averaged 17 points and eight rebounds this season, leading his Wayzata High (MN) team to a state championship. The On3 four-star is averaging 17.1 points and shooting 48.7 percent from three with the Howard Pulley program on Nike's EYCL Circuit.
"I would say I have improved my strength and athleticism a lot," McAndrew told On3. "Also, rebounding and being a better ball handler. I'm better defensively as well. I like to watch a lot of Lauri Markkanen; I like his play style a lot and his footwork."
On3 caught up with Jackson McAndrew to talk about the current state of his recruitment.
McAndrew talks visits
"I have taken officials to Wisconsin and Creighton," McAndrew said.
Creighton: "I really enjoyed myself on the visit. It was great being able to spend more time with the coaches and players and watch the game against UConn. I really like their play style and think it would be a good fit. They play up-tempo, and everyone in the rotation can dribble, pass, and shoot. They are all very versatile. My relationship with the coaches has continued to grow, and I have been hearing from them a lot."
Wisconsin: "It was a lot of fun and cool to see a couple of practices and spend a lot more time with players and coaches. My relationship has been continuing to grow with them, and I have been talking with them more. I would fit in with the versatility I bring and my shooting ability, also being able to be an all-around player for them."
McAndrew talks future visits
"I have set official visits up with Notre Dame and Xavier," McAndrew said.
Notre Dame: "I will visit them June 18-19. I really like what Coach (Micah) Shrewsberry and the rest of the coaching staff are doing with the program. I think they are taking it in a really good direction. The school is also very good and cool. I think that I can be utilized very well with my versatility in the system they play offensively and defensively."
Xavier: "I'm visiting them June 12-13. I have gotten to know the staff a lot more, and our relationship has grown. I really like the success that they have been having lately and in the past. Also, I like the way they play and how they would be able to utilize me very well."
In his words
"I don't really have a time frame," McAndrew said. "It'll just be when I feel it's right. Definitely before the senior season, but I still want to get out to these places that I haven't seen yet, and also see more of the ones I have seen.
"I will be looking for a coaching staff that I am comfortable with and trust. Also, a school where I know I can be utilized in a good play style. A place I can develop and reach my full potential. A good school and teammates that I would want to play with as well. I think the play style that fits me is a team that plays with good pace and allows me to dribble, pass, shoot, and utilize my skillset."
On3 is currently higher than the industry on Jackson McAndrew, the No. 140 player in the 2024 On3 Industry Ranking, a weighted average that utilizes all four major recruiting media companies.