WATCH: Deion Sanders sends warning to NCAA over NIL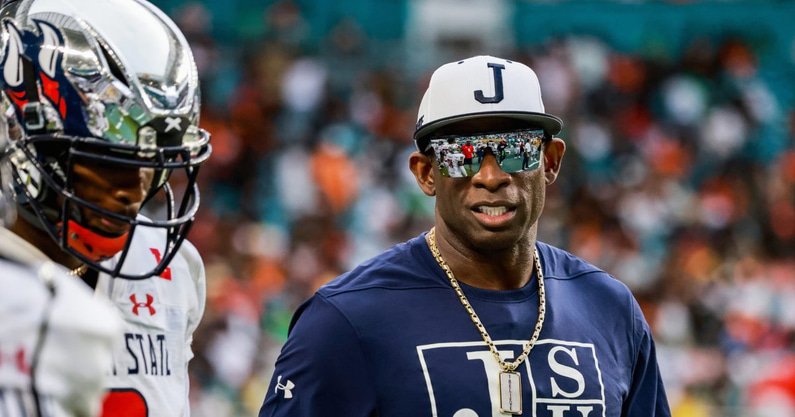 It's no secret NFL legend Deion Sanders is building an empire at Jackson State, and the amount of star power is almost overwhelming to a FCS program like the Tigers.
Coach Prime is here to stand up for the smaller programs and HBCU's across the country, calling for the NCAA to provide each program with the opportunity to hire more qualified individuals to help with aspects of NIL.
"When you start paying athletes like they are professionals, you get athletes acting like they're professionals, and you don't have staffs large enough and equipped enough to handle a young man with money," Sanders said. "[How can we] handle a young man that's making more money than some of the coaches on staff? You've got a real problem.
Sanders' suggestion to the NCAA is for them to allow college teams, namely smaller, less financially-able programs the ability to hire more qualified men that can handle Jackson State's top players in regards to their NIL deals. Without it, Power Five athletes will run away with the majority of major NIL deals, while the rest are left to suffer once again.
"It ain't NIL because it ain't no name, image and likeness, it's just pay-per-view right now. That's what they're doing with the big boys, we can't compete with that," Sanders said.
Sanders on Travis Hunter
Jackson State is the most attractive place to come play if you're a Division I prospect looking to jump to an HBCU for the sole reason that not only does Deion Sanders, one of the greatest NFL players of all time, coach the team — the national spotlight is on you. Two or three times a year Jackson State plays their games on ESPN and the nation has taken notice. 
Sanders said the worst place for a Division I prospect to be is homecoming at an HBCU simply because they'll never want to leave.
"One of the reasons that we got Travis Hunter is, he came here during homecoming," Sanders said. "That's the last place you want to let an African American kid come to a HBCU homecoming when we had almost 60,000 on hand. The culture of the band, and we won and we were dominant. He's in there listening to my pregame speech and at the conclusion of the speech of I'm saying like, 'give me my theme music' and 'My Hitta, My Hitta' comes on and everybody there is dancing and rockin' because that's who we are."