Jacksonville State announces the passing of beloved assistant coach Calvin Magee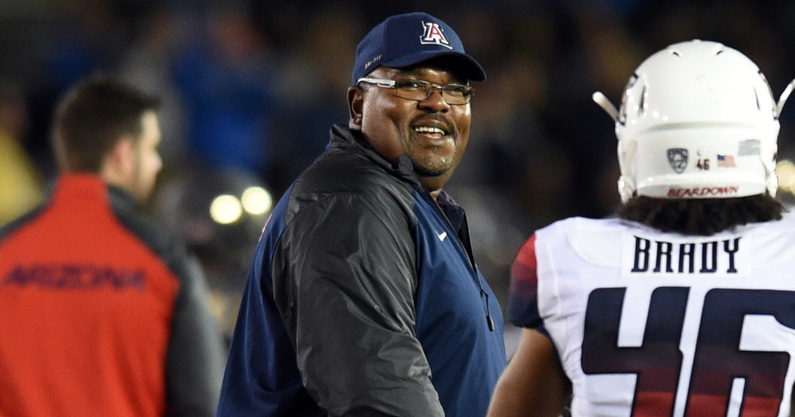 Longtime college football assistant coach Calvin Magee, who was hired by Jacksonville State in December, suffered a "serious" heart attack earlier this week. On Friday, Jacksonville State announced that Magee has unfortunately passed away.
Jacksonville State head coach Rich Rodriguez commented on Magee's passing in the release, saying that he is heartbroken.
"Our hearts are broken with the loss of our beloved friend Calvin Magee," Rodriguez said. "Calvin was a great husband, great father and grandfather, great coach, great friend and great man. He impacted my life and the lives of so many others in such a positive way. Our thoughts and prayers are with his beautiful family – wife Rose, daughters Jade and Jasmine, son Bryson, his grandchildren, and all his friends and relatives. Our world is less, but heaven got better. I miss him dearly already. I love you my brother."
Jacksonville State athletic director Greg Seitz also commented on the unfortunate news in the release.
 
"Our hearts are broken over the loss of Coach Magee, who touched many lives in just a few months here at Jacksonville State University," said Seitz. "Our thoughts and prayers are with his wife Rose and his wonderful family, our football staff and student-athletes and the countless people that he has impacted over his playing and coaching career."
Magee made multiple stops in his coaching career
Magee has coached at South Florida, West Virginia, Michigan, Arizona, Ole Miss, and Duke, among other stops during his coaching career. He also played in the NFL as a tight end.
Magee's coaching career, which was set to extend to Jacksonville State next season, began in the college ranks in 1996 at USF, as he served as a tight ends coach and running backs coach from 1996-2000. He then became the running backs coach at West Virginia, and eventually became the Mountaineers' offensive coordinator and associate head coach. In 2008, Magee was hired as Michigan's offensive coordinator, and he held that position until 2010.
During the 2011 season, Magee was Pittsburgh's associate head coach and co-offensive coordinator. He then held the same position at Arizona from 2012-2017. In 2018, he became New Mexico's offensive coordinator and then went to Ole Miss to become the Rebels' tight end coach in 2019. Magee spent the 2021 season as Duke's running backs coach before joining Jacksonville State as an associate head coach, offensive coordinator, and tight ends coach prior to this upcoming season.