2024 4-star S Jacob Oden announces top five schools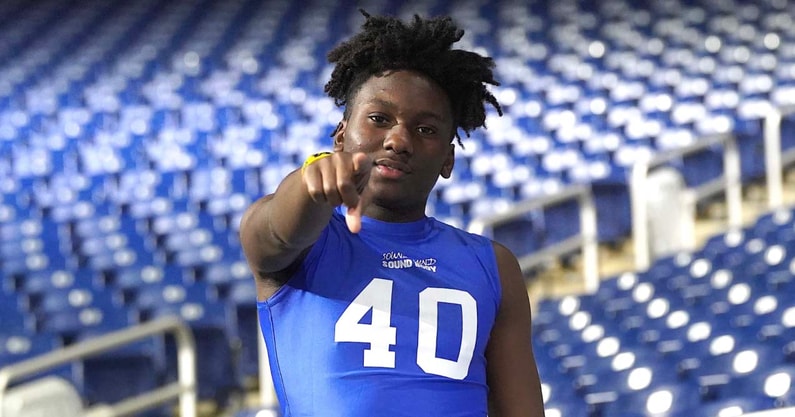 Harper Woods (Mich.) four-star safety Jacob Oden holds more than 30 offers. The 6-foot-0.5, 185-pound defensive back believes it is time to cut down his list.
That is why Oden announced his top five schools on Tuesday. They are Michigan, Michigan State, Penn State, Tennessee and Iowa.
"This could always change," Oden told On3. "My recruitment will still be 100% open. But these are the five that stand out the most. These are the five that are the highest on my radar right now."
"The places on my top five are the places I'm most comfortable at and show the most love," he added.
Relationships played a key role in the selection of Oden's finalists. Other factors included the coaching staff and his treatment by the program during visits.
Oden hopes to conclude his recruitment by early next year. He plans to use all of his official visits in the spring before committing.
"Me being comfortable is the No. 1 thing, with how big the transfer portal is now," said Oden, the No. 173 overall prospect and No. 14 safety in the 2024 On3 Consensus. "I want to be comfortable at school where I'm at the point to (where) I don't have to transfer if anything happens."
Michigan and Michigan State are pushing hard for Oden
Oden's most recent visit was an unofficial to Michigan on Oct. 29. The four-star estimates he has visited the Wolverines more than 10 times.
"I've been around Michigan for the longest time," Oden said. "I grew up on Michigan everything, so they stand out in many ways. It's a very good football team, very good coaching staff. I'm close with (defensive backs) coach (Steve) Clinkscale and all them."
Another Michigan staff member who has impressed Oden is head coach Jim Harbaugh. He called Harbaugh a "good coach" and shared that he knows how to motivate players.
The Wolverines' performance over the last two years has resonated with the four-star. In less than a week, Michigan will play in the Fiesta Bowl for a berth in the College Football Playoff national championship.
"Michigan is going up and up every year," Oden said. "They're just getting better every year, improving every year and I like to see that."
Both Michigan and Michigan State are working hard to land the four-star. According to Oden, he has been to East Lansing between six and seven times.
"How they bring me in and treat me like one of them, like I'm a dog," Oden said about why he likes Michigan State. "They make sure I'm the priority."
Oden has already built connections with multiple Spartans coaches. They include head coach Mel Tucker, defensive coordinator Scottie Hazleton and secondary coach Harlon Barnett.
"I think coach Tucker's a great guy," Oden said. "He's a defensive minded coach, a cornerbacks coach. He's real cool to talk to."
Iowa and Penn State hope to keep Oden in the Big Ten footprint
Oden has visited Iowa twice. His interest in the Hawkeyes is largely because of one coach.
"(Defensive backs coach) Phil Parker is why Iowa's on the radar," Oden said. "He's done so much for people I know, like former players Desmond King (and) Chauncey Golston. He's done so much and the defenses really shut down up in Iowa."
The four-star has visited Iowa City twice. Every time Oden travels there, he enjoys spending time on the Hawkeyes' campus.
"It's a family atmosphere there," Oden said. "They take everybody in. Everybody's family, so it's real close and comfortable."
Meanwhile, Penn State has received three visits from Oden. He was at Beaver Stadium for the Nittany Lions' White Out win over Minnesota on Oct. 22.
"Everything stands out when I'm up there," Oden said. "I went to the White Out game and that was another one of the best I've ever be to."
Oden speaks with various Penn State coaches, including head coach James Franklin, co-defensive coordinator/safeties coach Anthony Poindexter and cornerbacks coach Terry M. Smith. His relationships with them is one part of his interest in the Nittany Lions.
"I like everything," Oden said about Penn State.
Oden feels 'very comfortable' at Tennessee
Tennessee is the only non-Big Ten school in Oden's top five. However, the Volunteers are a serious contender for the talented defensive back.
Oden first visited Tennessee during his sophomore year. After that trip to Knoxville, he kept his eye on the program.
"Tennessee's coaching staff is a real Detroit-known coaching staff," Oden said. "We can build a relationship right there and being down there, I just felt very comfortable and they showed a lot of love."
Defensive coordinator Tim Banks is Oden' main contact with the Volunteers. Banks is a Detroit native who played cornerback at Central Michigan.
Oden returned to Tennessee on Oct. 15 for the Volunteers' game against Alabama. That day, the Volunteers knocked off the Crimson Tide and stormed the field of Neyland Stadium in celebration.
"That atmosphere was super crazy," Oden said. "(It was) probably one of the best games I've ever been to."