2024 3-star OT Jac'Qawn McRoy announces top 10 schools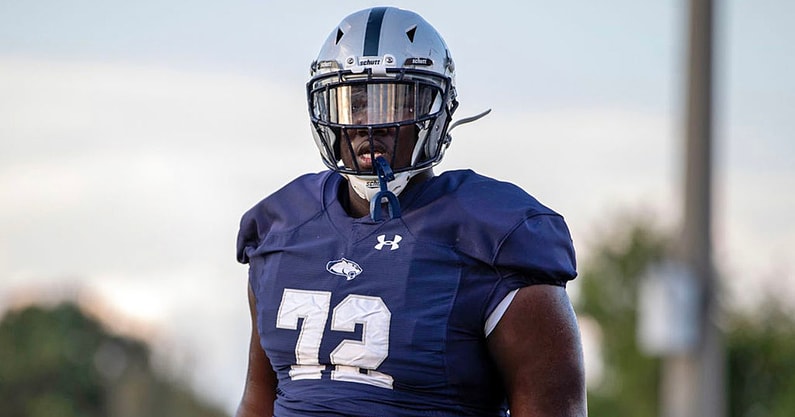 Pinson (Ala.) Clay-Chalkville three-star offensive tackle Jac'Qawn McRoy holds 22 offers. He is ready to cut down his list.
McRoy announced his top 10 schools on Saturday. They are Arkansas, Auburn, Florida, Georgia, Kentucky, LSU, Miami, Ole Miss, Oregon and Tennessee.
"The names and what the schools are about did a lot of the work at first," McRoy told On3. "Then I started finding out more about the schools, getting to know some of the coaches and seeing more that I like."
The 6-foot-8, 340-pound recruit has already made trips to Arkansas, Auburn, Georgia and Kentucky. He was on The Plains last weekend and attended multiple Bulldogs games this fall.
Arkansas, Auburn, Georgia, Ole Miss and Oregon communicate with McRoy every day. Meanwhile, he communicates with his other finalists a couple of times per week or weekly.
Right now, the Alabama native plans to take some more visits in the spring and his five officials in the summer. He then hopes to commit before his senior year.
"I am not really looking at the coaches too much when I make my decision," said McRoy, the No. 466 overall prospect and No. 26 offensive tackle in the 2024 On3 Consensus. "Coaches change jobs every season in college football, so I am looking at a lot more than that. I am looking at the environment, where I could play regardless of who is coaching me. There will be a lot more to it than just the coaching staff. There will be a lot more to my decision. I am looking at the biggest picture."
McRoy breaks down his top 10 schools
Arkansas: "It is about coach (Sam) Pittman for Arkansas. He is a former offensive line coach. I see Arkansas as a top offensive lineman school and coach Pittman is a big part of my interest. I also like coach (Cody) Kennedy. He is a comedian and easy for me to talk to."
Auburn: "I love (Hugh) Freeze. I love coach (Jake) Thornton too. He is one of the youngest offense line coaches in the SEC. He can relate to me and some of the stuff I will be going through in college. Auburn has made me feel like a top target for them. They think me staying in state and going to Auburn would be great for me and the school."
Florida: "Coach (Joe) Hamilton is my guy at Florida. He is over in recruiting at Florida and he is a good dude. I haven't been there yet, so it is a school I am looking to visit and find out more about."
Georgia: "What stands out about Georgia is the winning environment. Coach (Eddie) Gordon was my guy, but he has taken a job at UAB, so now I am talking more to coach (Stacy) Searels. I like the winning atmosphere around Georgia the most."
Kentucky: "Kentucky is my day one school. They were the first to offer and that means a lot to me. The coaches that offered me have moved on to other jobs, but coach (Zach) Yenser is my guy now and he is coming after me hard."
LSU: "It is a school I am still learning more about. I have watched them on TV and I like their fan base. I know some about their history."
Miami: "Their name and their history puts them on my radar. It is a school I want to talk to more and learn more about. Anez Cooper is a player that came from my area and he is playing there, so I like what they are doing on the offensive line and how they play guys like him as a freshman."
Ole Miss: "Ole Miss can develop offensive linemen and I like that. I have done some research on the school and I like what I have seen on YouTube. The main coach I am talking to is coach Dane Stevens, one of the recruiting assistants. He is a cool guy."
Oregon: "Oregon has been my dream school. It is not about this, but I love how they wear different uniforms. I like the program and I like what they offer in sports management. That is what I want to major in. They have been one of the schools recruiting me hardest."
Tennessee: "I love Tennessee. I started high school at Fairfield and RJ Perry is an old teammate of mine. He starts for Tennessee, so I have a nice connection there. Coach Max Thurmond is the coach I have been talking to at Tennessee."