Jalen Ramsey takes shot at NFL over player safety vs. dress code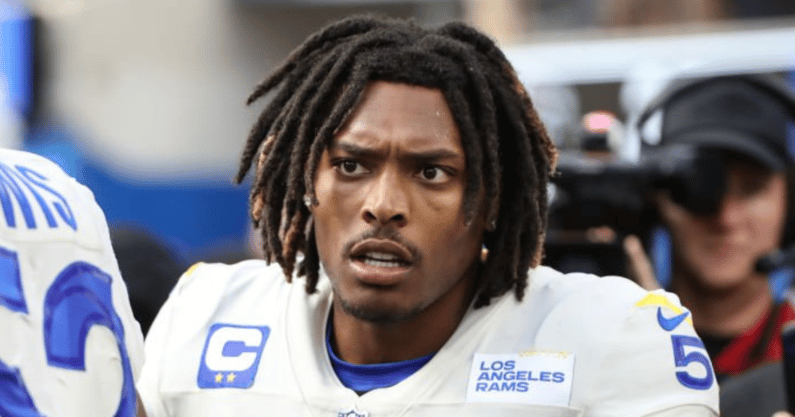 The talk of the NFL this week has been player safety. After the scary situation involving Tua Tagovailoa from last Sunday to Thursday night, plenty of fingers have been pointed. Some think the wrong people are in place while others believe it's the NFL having their priorities in the wrong place. Rams CB Jalen Ramsey sees it as the latter based on the sentiments he shared in a ramble on Saturday during media.
Ramsey compared the NFL's focus on player safety to the emphasis they put on their dress code. He said that based on the continuous fines he receives each week for his outfit, he thinks the NFL should apply that same energy on preserving their players.
CLICK HERE to subscribe for FREE to the On3 YouTube channel
"Player safety should be one of the most important things talked about. It should probably be talked about more. And getting fined for socks? No, for real. Let's talk about it. Like getting fined for socks or getting fined for tights or BS or anything like that? That needs to not be talked about as much. We need to talk about player safety," said Ramsey. "That's the stuff that they need to put an emphasis on, not freaking, 'Oh his socks are too high, his socks are too low,' or something like that. That's so lame. I'm so beyond that."
This comes after Ramsey explained how he has repeatedly been fined for dress code violations. Regardless of his efforts to adhere to the league's regulations, they've continued to fine him to the point where he says he isn't going to continue to avoid the fines.
Ramsey also says he places a ton of blame for some of the current situations on the NFL Player's Association. All he would say on that subject is that he expects better from the organization.
"They know and they aren't doing nothing about it. Don't get me started on that, either. Don't get me started on them," said Ramsey. "They got to do better. They got to do better."
Tagovailoa's injuries have opened eyes across the NFL. In Ramsey's opinion, he hopes it leads the league to refocus on what really matters in their league. Even at risk of yet another fine, Ramsey wanted to make sure he got his point across over the weekend.
"It's so lame. I'm going to keep it honest. It's so lame. I might get fined for this. My agent's probably going to hit me up about this. I might get fined for this, but I think it's lame. I think it's lame. It's not fun and…we're not taking away from the integrity of the game."