Jalin Hyatt signs with Everett Sports Marketing for NIL representation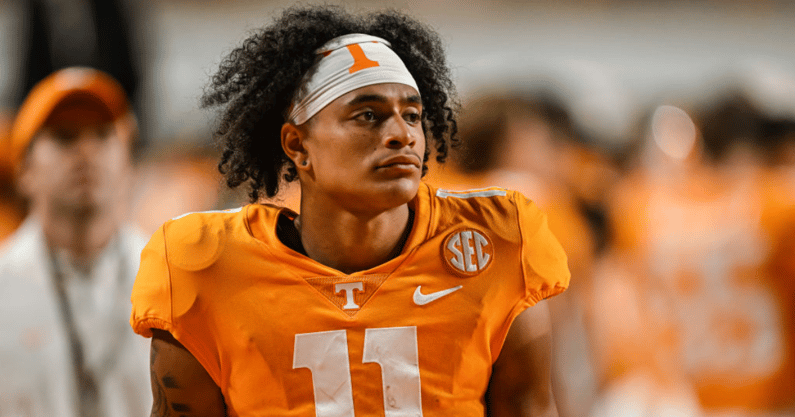 When Indiana women's basketball coach Teri Moren walked into the locker room before the Hoosiers hosted the North Carolina Tar Heels in last week's ACC/Big Ten Challenge, guard Grace Berger saw her coach and saw herself. Well, sort of. Moren was wearing a sweatshirt featuring the three-time All-Big Ten First Team guard's name and likeness that the custom apparel company Campus Ink sells through The NIL Store.
The timing of Moren's wardrobe decision was notable. The primetime game aired on Big Ten Network six days after Berger suffered a knee injury against Auburn in the Las Vegas Invitational.
"It was definitely a surprise when she walked in the locker room," Berger said in a Zoom interview. "To have her as someone — obviously I have a really good relationship [with her] — but also someone that I respect a lot and I think is one of the best women's college basketball coaches that there is wear my shirt before we face the No. 6 team in the country, that meant a lot for me.
"And just shows even more that she was there for me for my injury. Honestly, at first, until she mentioned it, I didn't even realize kind of the NIL benefits that might come from that. But at first, it was just a nice honor from someone that is so well-respected in my eyes."
'Check this out. Coach is wearing Grace's stuff'
Campus Ink employees were watching the matchup between Indiana and North Carolina on TV when they noticed a familiar piece of apparel.
"We're all fans. We all like watching and supporting our athletes," Campus Ink Director of Athlete Development and Partnerships Adam Cook said in a Zoom interview. "We actually had the game on and noticed it when she was sitting on the bench and so we were like, 'Wait. Yo, yo, yo!' Like, 'Check this out. Coach is wearing Grace's stuff.'
"I think it's cool from a brand standpoint, for sure. I mean anytime that you see the stuff that you've created displayed on a stage like that, it's never not going to be exciting… The really exciting thing for us turns from 'Oh, that's our shirt' to 'Oh, that's Grace.'"
In an NIL landscape where countless NIL deals, activations and moments are branded as the first of their kind, Moren wearing Berger's apparel during a game may have actually been a first.
"Well, the kids told me, 'You got to wear it now every night," Moren said, laughing, in her postgame press conference following Indiana's 87-63 win. "What they don't know is it's really comfortable and I would do that if I need to."
The NCAA's latest NIL guidance clarified the roles that athletic departments and their employees can play in promoting their athletes' NIL opportunities. The guidance stated that it's permissible for athletic department employees to "purchase items related to a [student-athlete]'s NIL deal that are de minimis in value and for the same rate available for the general public."
"I think what Coach did was a good demonstration of demonstrating support first and foremost of somebody who's going through a tough time," Cook said. "Grace is hurt. As a former athlete myself, as a former coach, I love to see that. Look, man. When you get hurt as an athlete, that's a pseudo or a very real identity crisis. So to be able to publicly show support in this new way, I'm sure meant a lot to Grace. I'm sure it took a lot of courage from Coach, but maybe was also a no-brainer decision for her.
"Like, 'I'm going to support my athlete in this moment while she's struggling.' I think that that's maybe one of the first lessons that maybe coaches can take away in the year. NIL is another way to come alongside and support your athletes."
The NIL impact on Grace Berger
Athletes who partner with Campus Ink earn between $8 and $15 per item sold, according to Cook.
"We're very proud of that," he said. Cook called it "ridiculous" if the financial model only allowed athletes to earn a minimal amount, such as $1.50 per item sold.
Moren said in her postgame press conference that she ordered the sweatshirt weeks earlier. She joked that she'd contribute to Berger's NIL earnings since the guard was unable to play.
"Here's exactly what I told her. I walked in and they were all excited cause I think nobody had seen it yet, and I said, 'I figured while she was on pause right now, I'd put a little bit more money in her pocket with NIL,'" Moren joked. "That's what I told her. I said you know, 'You can't play, but here's what I will do. I will contribute to the Grace Berger fund, NIL.' So yeah. But hopefully there were a lot of people tonight that got to see it and want to support our student-athletes and some of their endeavors with NIL."
Cook said there's strict contractual confidentiality between Campus Ink and the athletes with whom it partners but he tried to contextualize the impact of a moment like Moren wearing Berger's custom apparel.
"In terms of specifics of what that type of moment does, you know I think it's pretty clear that if you are a marquee player, people are going to know who you are and they're going to buy your merchandise," Cook said. "When you have a moment like that and you're kind of put on the pedestal — not necessarily from what Coach did, but this is IU versus UNC. It's a marquee matchup.
"That certainly helps sales by an order of magnitude."
What has the fan response been like from Berger's perspective?
"It had somewhat of a response when it first came out and they did a good job marketing it but to have it worn by such a public figure in Coach Moren on national television, and then obviously put on social media by our accounts, I think sales kind of skyrocketed," Berger said. "It was really cool to see not only do I have Coach Moren behind me and my family behind me, I also have the entire fan base of IU behind me for my injury and also for my NIL, obviously."
NIL apparel sales: 'The better you are…the better your sales will be'
Cook noted that players' performances on the court helps their earning potential off of it. Berger was a consensus top-80 recruit who was ranked in the top 50 nationally by some scouting services. She averaged 16.2 points, 6.2 rebounds and 4.7 assists per game last season, which resulted in her receiving honorable mention All-American honors.
In six starts this season, she has averaged 10.3 points per game for the undefeated Hoosiers. Berger has been a key player in Indiana's improvement under Moren.
"It's been awesome being a part of the rise," Berger said. "I think in women's basketball especially, it's pretty much those three, four, five teams at the top consistently and it's really hard for a program that doesn't have a whole lot of history to kind of break into that. To see Coach Moren and my teammates, and be a part of that, is something that's really special."
Berger said since her college career started prior to the start of the NCAA's NIL era, she may not receive the full benefit of college athletes' newfound rights. It's still relatively new, she said, but it's unquestionably an additional benefit, especially for athletes at a school with a large fan base.
"I am here to say unequivocally the better you are at your sport, the better your sales will be," Cook said.
It certainly doesn't hurt sales if your coach is wearing your apparel, either.
There are state laws and institutional policies that prevent an athlete from promoting his or her NIL activities during athletic competition. However, coaches can take a page out of Moren's playbook and promote their athletes' custom apparel on national TV.
"As a coach, you have to win. First and foremost, your job is to go out there and compete at a high level. You want to win games or matches," Cook said. "But especially at the collegiate level, you're so much more than just somebody who's navigating wins and losses. You're an advocate. You're a mentor. You're an educator. You're a counselor and you're doing this to a group that comes from a lot of different backgrounds, has a lot of different, competing perspectives, but all has a common goal.
"…Where do I see this type of behavior or this type of opportunity going for coaches in the future? It's one other avenue that coaches can demonstrate your support, that coaches can demonstrate advocacy and that coaches can come alongside their athletes. It's just another lever that they can pull to help bolster those athletes while they're under their tutelage."