Jarin Stevenson, Jordan Butler, Sir Mohammed among Battle of NC standouts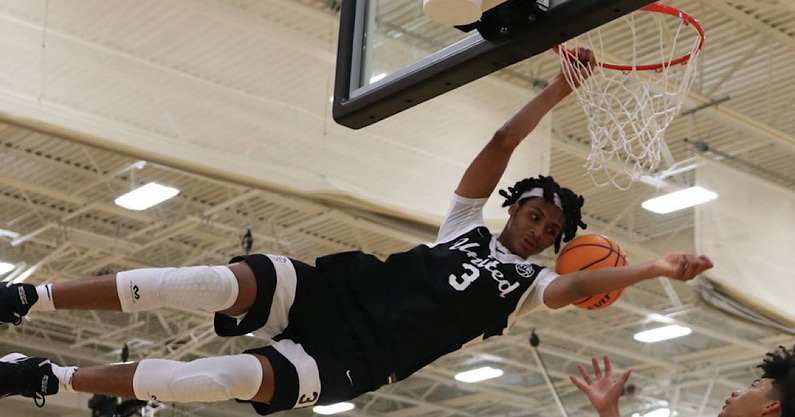 Bermuda Run, North Carolina – Some of the best teams from North Carolina gathered for this weekend's Battle of Carolina. The Circuit teamed up with Team Curry to put the event at the eight-court Rise Indoor Facility. On3 was courtside to talk about standouts.
6-6 '24 Sir Mohammed, Team Curry 16s
Sir Mohammed is a very intriguing prospect. Standing 6-foot-6, he may be at his best, playing on the ball with this team. His IQ and court vision are what you walk away talking about. This team Curry program does an excellent job lining Mohammed up across multiple spots on the floor and running the offense through him.
Recruitment-wise, Mohammed has offers from Appalachian State and High Point. That should rise once coaches and programs can dig in a little with him. His game is unique, and he will have to go to a system fit, but the skill set is obvious. He is the son of former Kentucky and NBA center Nazr Mohammed.
6-5 '24 Jayden 'Juke' Harris, Team Wall 16s
This viewing was my first of Juke Harris, and it was an impressive one. There was a lot of talk coming out of Salisbury (NC) High with him this season, so I was excited to watch him live. I got two viewings, and he delivered both times.
Harris is a smooth shooting guard prospect. He can handle, shoot, and pass with natural movements and fluidity. His game has a raw nature, but he is still young; he averaged 23.1 points this high school season. He currently has Radford and Western Carolina offers; watch his development; this one has the chance to grow into a regional or national recruit.
5-9 '25 LJ Rush, Team 1-of-1 15s
LJ Rush is a very intriguing mix of skill and flair. He has excellent court vision and gets anywhere he wants on the floor. Rush has range that extends beyond the three-point line, and he will pull it at any point in the possession. He makes things run smoothly around him. Monitor his development; there is a lot of natural talent there.
6-10 '23 Jordan Butler, Team 1-of-1
Jordan Butler is On3's No. 30 player in the 2023 class. He is a skilled forward, at 6-foot-10, able to create and shoot. Today, the full arsenal was on display as Butler knocked down threes, finished above the rim in the half-court, and created space in the mid-range. Butler is still 16-years-old, so there is a lot of ceiling to go.
Butler's mother played at South Carolina in the early 2000s, and his brother John is at Florida State. On3 is ahead of the national consensus on him as his On3 Consensus is No. 56. Butler has offers from Auburn, Florida State, South Carolina, Missouri, and others.
6-9 '24 Jarin Stevenson, Team United EYBL 16s
Jarin Stevenson is the No. 21 ranked player in the 2023 On3 Consensus. He burst on the scene during 15u Peach Jam when he led this Team United team to the finals, where he averaged 15.5 points in the Final Four.
He has good size and is very skilled. Stevenson shoots it from three, and he showed he can get to his spots off the bounce. Stevenson has offers from North Carolina, Virginia, Wake Forest, and NC State.