Jason Witten weighs in on Cowboys chances of Super Bowl run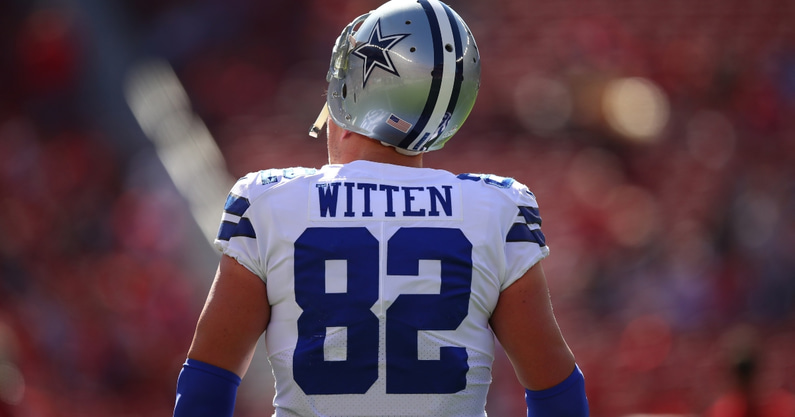 Jason Witten is one of the best tight ends to ever do it. Witten played the first 16 seasons of his NFL career with the Dallas Cowboys before finishing his career with the Las Vegas Raiders in 2020. With the Cowboys back in the playoffs, Witten believes that the team is in a great position to make a run.
"I think it's a pretty resilient bunch," Witten said about the Cowboys' chances at a Super Bowl run, per The Athletic's Jon Machota. "I think they can be really good. That road game against the Patriots said this Cowboys team is for real…I think they're gonna start playing their best football at the most important time."
Witten's career with the Cowboys was a memorable one. After playing in 15 games as a rookie in 2003, Witten did not miss a regular season game for the rest of his career. Witten caught 1,228 passes for 13,046 yards and 74 touchdowns in his NFL career. The majority of that production came while in Dallas, as he caught just 13 passes for 69 yards and two touchdowns in Las Vegas.
The Cowboys have a tough road ahead to prove Witten right
If the Cowboys want to live up to Witten's expectations in the postseason, they are going to need a strong all-around performance against a loaded NFC playoff field. The Cowboys finishes as the NFC's third seed, behind the Green Bay Packers and Tampa Bay Buccaneers. Dallas will face off against the San Francisco 49ers in the wildcard round at home on Sunday.
This season, the Cowboys easily cruised to a NFC East title. The Philadelphia Eagles also made the playoffs as a wildcard team at 9-8. Dallas won five of its final six games, giving the team some important momentum heading into the playoffs.
After losing consecutive games in Weeks 11 and 12, falling to 7-4, the Cowboys rattled off four consecutive victories to improve to 11-4. The Cowboys lost to the Arizona Cardinals in Week 17 before wrapping up the regular season with a win against Philadelphia.
Dallas scored 50 points in two of its final three games, beating Washington 56-14 and the Eagles 51-26. Quarterback Dak Prescott is playing at a high level right now, and he just wrapped up a record-setting 2021 season. But any chances of a run to the Super Bowl starts on Sunday against a stingy San Francisco defense with a strong rushing attack.