Jay Glazer reveals Mike Tomlin's plan for Steelers rookie quarterback Kenny Pickett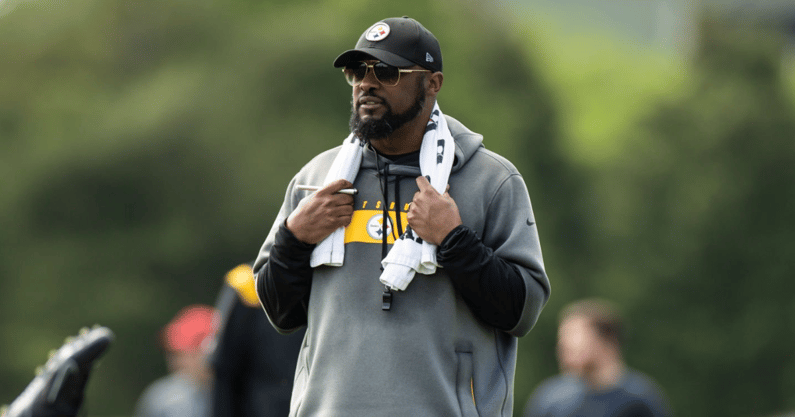 On The Inside Scoop with Jay Glazer, the analyst revealed Pittsburgh Steelers head coach Mike Tomlin's master plan for the quarterback room. Glazer shared that Tomlin plans to start veteran Mitchell Trubisky not just on the first Sunday but all season long while he keeps first-round draft pick Kenny Pickett sitting on the bench.
Kenny Pickett moved past former Oklahoma State quarterback Mason Rudolph on the depth chart going into game week. Now, Rudolph is on the inactives list and Pickett is just one injury away from taking over the starting role for the Steelers.
CLICK HERE to subscribe for FREE to the On3 YouTube channel
Last week, Tomlin cited the team's comfortability with the more veteran quarterback as the reason behind naming him the starter for Week One.
"We're really comfortable with what Mitch has shown us," Tomlin said.
Trubisky enters his sixth season in the NFL after being drafted second overall by the Chicago Bears in 2017. He started 50 of 51 games he appeared in for Chicago before they ultimately moved on and drafted Justin Fields.
Trubsiky moved on to a far more successful franchise in the Buffalo Bills to backup Josh Allen last season but is now back in the pilot position for Pittsburgh.
The Steelers start the season versus the Bengals in Cincinnati at 1 p.m. ET.
Steelers inactives for Week 1 versus Cincinnati
The Pittsburgh Steelers are ready to start their season in Cincinnati, taking on the defending champions of the AFC in the Bengals.
It's going to be a huge day for the franchise, as the first game of the post-Ben Roethlisberger era is on the docket. Leading the way will be quarterback Mitchell Trubisky, who the Steelers acquired via free agency hoping to develop the former top pick's untapped potential.
The Steelers are back and rearing to start 1-0. Here's who won't be on the field for them on Sunday, as well as the Bengals' inactives.
Pittsburgh Steelers Inactives:
QB Mason Rudolph
OL Kendrick Green
WR Steven Sims
DE Isaiahh Loudermilk
LB Mark Robinson
Cincinnati Bengals Inactives:
RB Trayveon Williams
OL D'Ante Smith
OL Max Sharping
TE Devin Asiasi
DT Jay Tufele
On3's Stephen Samra contributed to this report.