2024 top-100 QB Jayden Bradford reveals top four schools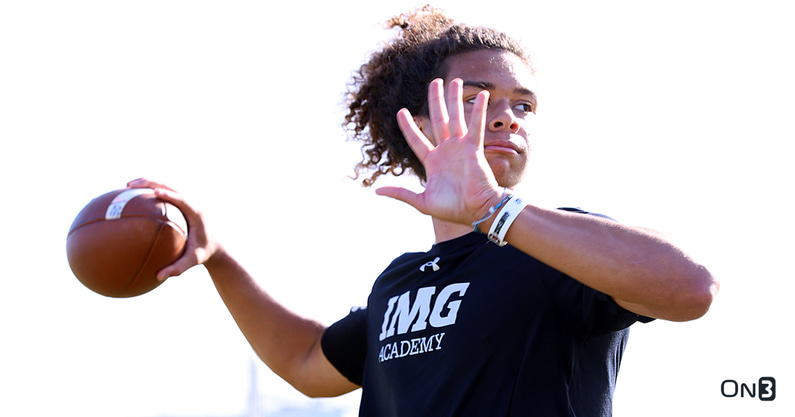 Chapin (S.C.) IMG Academy four-star quarterback Jayden Bradford is thinking ahead in his recruitment. Heading into his senior season, he wants to figure out where he will play college football.
That is why Bradford released his top four schools on Thursday. The list includes Louisville, NC State, Penn State and South Carolina.
"Each of those schools, they were very adamant about me and they showed their interest in me very early and made me know that they're very interested in me and liked my talents," Bradford told On3. "I just really built a great relationship with all the coaching staff(s) and all the people there at those schools."
Bradford has visited each of his finalists at least once. 10 weeks into the season, the Gamecocks are the only program in his top four to receive a game visit.
Right now, no school is in the lead for the four-star signal-caller. Rather, Bradford shared that they all have "a fair shot of landing me."
"It's whatever feels right for me," said Bradford, the No. 99 overall prospect and No. 9 quarterback in the 2024 On3 Consensus. "Whatever my gut tells me and I'm just gonna go with my gut feeling. Whatever me and my family decide on, we pray on and whatever we make my final decision on, I know it'll be a great one. Wherever I go, I know I'll do well."
The 6-foot-0, 185-pound prospect is not set on a commitment date yet. However, he envisions December or January as possibilities. Bradford also plans to take a couple of visits ahead of his decision.
"I'm going in to change a program," Bradford said. "I'm going in to do my thing and bring a national championship to whatever program I go to."
Bradford breaks down his top four schools
Louisville: "I love the coaching staff up at Louisville. They have a young staff and I just feel like I would get along great with them. I liked the city that Louisville's in. It's a nice city. It's a lot different than what I expected it to be. I just feel they're maybe on the come up. They got a really good running back committed in the '23 class. They got a great quarterback committed and they got a receiver committed from St. John Bosco. They've done a great job in the '23 recruiting class, so that's why they're on my list and they've definitely made me a priority."
NC State: "I really love (offensive coordinator and quarterbacks coach Tim) Beck up there. He's a great guy. He really knows offense really well. He's been in the game for a countless number of years, probably longer than I've been alive. So he just really knows the game of football and I just feel like I could learn so much by going up there and be(ing) with him."
Penn State: "I feel like they've done a great job of just being consistent over the past years, always finishing in the top 25 rankings, just having a good team and a solid season every year. They told me that if I go up there, I could be that difference maker. That's really what led me to Penn State and made me put them in my top four. I love the coaching staff up there. They've done a great job focusing on me hard throughout my high school career, even though it's a far distance and everything. They've done a great job of keeping in contact with me and building a relationship."
South Carolina: "It's my hometown school and I've grown up watching them and seeing them play every Saturday. I've always heard all the sayings about, 'Go to Carolina. Do what you got to do to get there' and all that. It's always been, I wouldn't say a dream, but maybe being cool to go play there just cause I'm from there and represent my city and playing for my hometown state. They were on me early, so they've done a great job of staying in touch with me and continuing to build a relationship."