JD PicKell predicts College Football Playoff field, national champions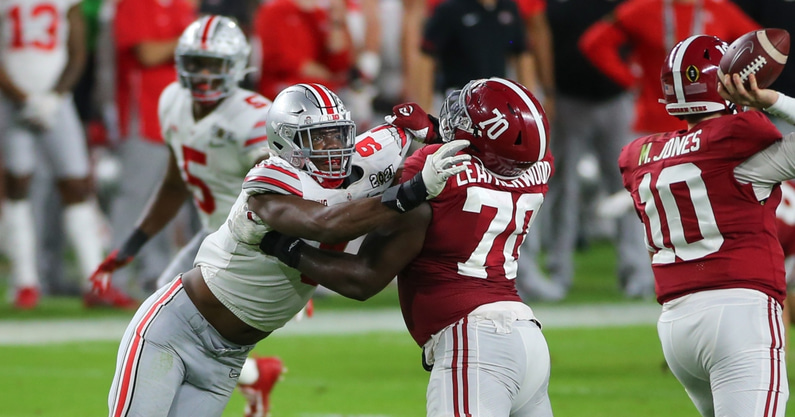 With Week 0 of the 2022 college football season less than two weeks away, predictions are rolling in from every corner of the sports world. The biggest predictions have become centered around the College Football Playoff and the National Championship Game as more and more attention is given to the postseason.
On3's J.D. PicKell broke down who he thinks will be in the College Football Playoff and who the 2022 national champion will be.
CLICK HERE to subscribe to the On3 YouTube channel today for all of the latest news on college football, recruiting, NIL, more!
J.D. PicKell lists off his four teams making the College Football Playoff. In order, they're the Alabama Crimson Tide, the Ohio State Buckeyes, the Clemson Tigers, and the Oklahoma Sooners. As for the national champions, J.D. PicKell admits that "this is boring," but Alabama is going to beat Ohio State.
"They are the two most talented teams in the country, they are two of the best-coached teams in the country, and they have the quarterback spot right in spades with Bryce Young and CJ Stroud. And, they have the playmaker position right. I say 'playmaker position,' they have playmakers at a myriad of positions," J.D. PicKell said while explaining that defense will help Alabama beat Ohio State for the College Football Playoff National Championship.
It's probably more surprising to many people that J.D. PicKell picked Clemson and Oklahoma. After all, Clemson is coming off a down season and still has quarterback issues. Meanwhile, Oklahoma has an entirely new coaching staff.
He explained this too, saying that Clemson will probably have to be perfect but they have the tools to do so. For their part, Oklahoma should have enough weapons on the offensive side of the ball to make the College Football Playoff out of the Big 12.