JD PicKell: Reranking the Top 6 leading College Football Playoff contenders through Week 5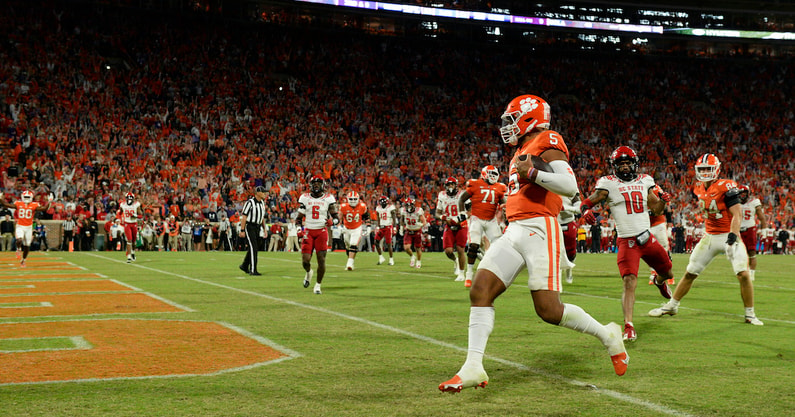 The top contenders for the college football playoff are coming in to focus with the season nearly halfway through and the exact order — and who gets left out at No. 5 and No. 6 — is a debate that's just kicking up. On3's JD PicKell has taken a crack at reranking the Top 6 through five weeks and explained his reasoning.
The teams in play in these rankings — Alabama, Clemson, Georgia, Michigan, Ohio State and USC — comprise the Top 6 in both the AP Poll and the Coaches Poll, so there's nothing too far afield in PicKell's ranking.
But he's weighting some recent performances heavily in to why some teams are rising and falling.
CLICK HERE to subscribe to the On3 YouTube channel today for all of the latest news on college football, recruiting, NIL, more!
Here's the Top 6 after Week 5, according to PicKell.
JD PicKell's Top 6 rerank after Week 5
No. 6: USC
PicKell likes what he saw from the Trojans in a 42-25 win against Arizona State after the offense struggled to click against Oregon State in a 17-14 win a week prior. Quarterback Caleb Williams played much better and it looked like USC found its offensive rhythm again.
The Trojans host Washington State on Oct. 8 ahead of a major showdown at Utah on Oct. 15. That game in Salt Lake City is circled on PicKell's calendar.
"USC, a team to watch for. I sound like a broken record at this point, just because it's true: When they play Utah, that's when we find out exactly how good they can be," PicKell said. "It's not that we don't think they're really good right now, they're one of the top six teams in the country for us, are you kidding me? If they can beat Utah, they will be a lot higher on this list. Trust me. For right now, we have them at No. 6."
No. 5: Michigan
A road win at Nile-Kinnick Stadium is not the reason Michigan is down a spot. Michigan held up its end of the bargain, cruising with relative comfort to a 27-14 win over Iowa in the Wolverines first trip out of Ann Arbor.
Quarterback J.J. McCarthy has yet to throw an interception and the run game headlined with Blake Corum is ticking. The only reason Michigan isn't still sitting at No. 4 has everything to do with the team climbing into that spot.
"We're not knocking them for getting a win at Iowa," PicKell said. "Any time you get a win on the road, it's a great thing. Especially against a team that's as stingy and tricky a place to place as Iowa is, in Kinnick Stadium. They won that game 27-14, relatively convincing fashion. The knock isn't so much on Michigan as much as it is about who we have at No. 4."
No. 4: Clemson
Back-to-back wins against ranked teams — first winning a road duel with Wake Forest and then holding off North Carolina State in a Top 10 matchup — is enough to buff up Clemson's resume to move them in to the Top 4. But with the way quarterback DJ Uiagalelei has played and how Clemson's offense looks at the moment, paired with a stifling defensive front, PicKell is bullish on the Tigers right now.
"They made a statement," PicKell said. "They made a statement the week before against Wake Forest, but winning that game against a really good defensive team, with an experienced quarterback in Devin Leary, I've seen what I need to see from Clemson. I've seen that they have it under the hood. And that was sort of my concern throughout the duration of the offseason. That defense is going to be really good, but is that what they're going to have to rely on? Is that what's going to have to carry them? Because DJ threw more interceptions than touchdowns last year. Do they have something offensively to cling to. Last night showed me they 1000% do. So I'm excited to watch them the rest of the way."
Clemson still has some tricky games on the schedule to navigate with Notre Dame, Miami and Florida State still on the docket, but the Tigers look in great shape to contend for a playoff spot.
No. 3: Georgia
It might've just been that the Bulldogs were playing with their food against Kent State in Week 4, but a flat-footed start and four-quarter battle with Missouri in Week 5, resulting in a 26-22 Georgia win.
They're still undefeated and Saturday night in Columbia could be a wakeup call, but PicKell needs to see the Bulldogs more engaged.
"Georgia needs to find a way to have their attention not dictated by what the logo is across from them. To us, that's concerning. That's not championship-level football. I think that comes with experience, but that's experience they don't yet have on the defensive side of the ball. You have the luxury of having a guy like Stetson Bennett, but Georgia still has some things that we're interested to see. So we like Georgia, they're No. 3 for us, but we're going to see what they do the rest of the way," PicKell said.
No. 2: Ohio State
A 49-10 bludgeoning of Rutgers where Miyan Williams tied the school single-game record for rushing touchdowns and the most interesting moment was when the two head coached — Ryan Day and Greg Schiano — almost got into a scrap late in the game didn't offer much by way of takeaways.
Ohio State will need TreVeyon Henderson to be healthy, along with Jaxon Smith-Njigba, but for now it's status quo for the Buckeyes. Like USC, PicKell is waiting to see the Buckeyes tested on the road — in this instance at Penn State on Oct. 29.
"CJ Stroud is that dude. They're littered with ballers on offense. Ohio State, not a ton to take away just yet. I am very excited to see that game, Oct. 29, at Penn State. That's going to be a lot of fun. That's when I think we get, similar to USC, a better litmus test for what they have, as a program. Playing really formidable competition in Penn State," PicKell said.
No. 1: Alabama
No Bryce Young? No problem, as running back Jahmyr Gibbs and the Alabama defense answered the bell and helped the Crimson Tide beat Arkansas on the road 49-26.
Alabama winning a game that a lot of folks thought would be close — and that was assuming Young would be playing — so convincingly with their backup quarterback is a big step forward.
"We thought Arkansas was going to make that close," PicKell said. "Especially when Bryce Young went out of the game. We thought Arkansas was going to make it a one-score game at the end of that thing. Credit to them, they pushed it to five, but Alabama just decided that they wanted to be Alabama, adjusted accordingly, played an elite level of football in the run game. Got it done. They're good enough for us as the No. 1 team in the country."