UNC vs. South Carolina will show what both teams are made of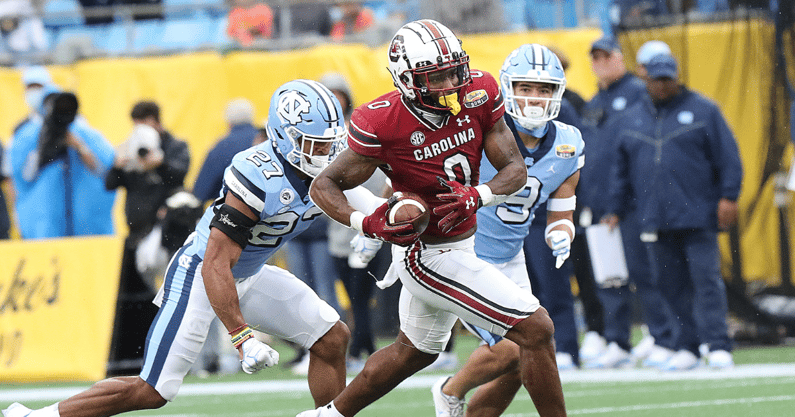 Neighborly state rivals North Carolina and South Carolina will meet in Charlotte, NC to open their respective seasons and settle for good which Carolina powerhouse is superior on the gridiron. Since both schools are coming off of very promising seasons and each returned their star players under center, On3's JD PicKell views the early September matchup as a litmus test for the programs.
A victory for either side, according to PicKell, will only boost the excitement for the 2023 season, meanwhile the loser will get a necessary reality check early in the year. So watch what the On3 analyst had to say about the rivalry matchup in this video or read his comments below.
JD PicKell explains what's at stake in North Carolina vs. South Carolina football game
"North Carolina and South Carolina, in Charlotte, neutral sight game. This is going to be one of the sneakier games of the day. I have labeled this one the 'Who Comes Back To Earth?' Bowl, because on both sides of this, there's a lot of optimism, a lot of buzz, a lot of excitement — and for good reason.
"If you're North Carolina, Drake Maye. If you're residing in Chapel Hill, you feel like is the best quarterback in college football, you can make a real argument, and that's one of the reasons why the good people in Chapel Hill are extremely fired up for 2023. They got big dreams, they got big aspirations. played for an ACC title last year, didn't go how you wanted it to, but still, you got your quarterback coming back who you feel extremely confident about. So that hype train that's painted Tar Heel blue has his face and his number all over it and for good reason.
"For South Carolina, Spencer Rattler said…'I'm not leaving the culture there.' I've talked about it here ad nauseam. You know I'm a fan of Shane Beamer. I told you, I got one year of eligibility, I'm running down on kickoff for Coach Beamer, that's what I would do. Now, even so, Vegas has got them at 6.5 wins. Good people in Colombia are saying…great, we'll hammer that all day long, we feel great about that one.
"This is going to be year three for Coach Beamer. This is going to be the year where a lot of people say…okay, what are we as a program? In year two, you have a quarterback. Year one, you're still trying to get your feet under you. Year three, now what are we? So they got high expectations in South Carolina as well.
"The reason why I call it the 'Who Comes Back To Earth?' Bowl — whoever loses this game, you take a real good look in the mirror and it's only Week 1. I don't think either side is defined by this game, but this will be a situation where you have to, again, take a look in the mirror say: maybe we still have some places where we can improve. And you'll do that after the game."
"Anyway, but I think for South Carolina and North Carolina, it'll be areal good chance to sort of steady your psyche a little bit because you find out who you are after you lose a game, especially the first game of the season."