Jeremy Foumena, late-blooming big, talks Georgetown, UCF offers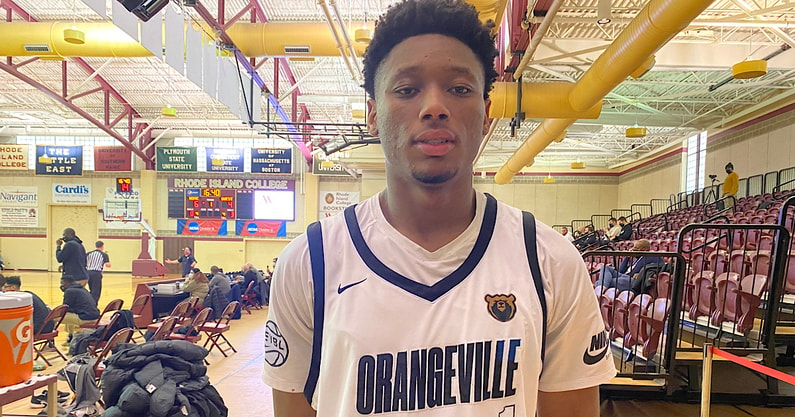 Colleges are always looking for bigs, at every level, in every class. Late-blooming 6-foot-11 senior Jeremy Foumena is a rebounding machine whose game is peaking at the right time.
"I am best on the block, in the post around the basket," Foumena told On3 Sports. "I am working on my mid-range, but I am getting comfortable there, and I am a capable shooter from three. I am playing with a lot of energy this year. People have told me I play like Jalen Smith and Clint Capela, their energy and the way they play around the basket."
College coaches have also taken note of the Ontario (CAN) Orangeville Prep big man as he is becoming a priority recruiting in the eyes of some. Jeremy Foumena spoke exclusively with On3 Sports about his recruitment.
"I have Central Florida, and Georgetown offers right now," Foumena said. "I took an official visit to UCF last weekend."
Foumena talks recruitment
Central Florida: "I wasn't expecting to like it as much as I did. I really liked Coach Mamadou (N'Diaye) and Coach (Johnny) Dawkins. They showed me a lot about the campus and what they do. They want to play me as a five and a four, but they want to prepare me as a four to be able to shoot more and attack the rim."
Georgetown: "Georgetown wants me to play a straight five and play inside. They play in a lot of pick and roll and want to play to me in the post, get me touches there."
Marquette, Indiana, Oklahoma, Xavier are all talking to me pretty heavily right now."
Foumena's take
"I want to go to a program that is going to develop me," Foumena said. "I am trying to make it to the pros, so I want to find a coach that is going to let me rock out and feed me in the post.
"My two uncles on my mother's side both played professionally in France."
On3's take
You notice the first thing about Jeremy Foumena's game is his motor on the boards. He has a lengthy frame with a projectable build and has an impressive go-get-it mentality around the basket. Foumena runs the floor with a purpose on both ends and shows a competitive fire that leads to production. While he does not have the best lift, he is willing to battle. His length and positioning allow him to block shots. Foumena is a raw offensive player, but he does show some touch and confidence. He is comfortable going over his left shoulder from 15-feet and in, and he knocked down a three in each game we saw. There will need to be some continued work there, but 25 points and 16 rebounds is a stat line that speaks volumes.