Jerry Jones claims NFL rules allowed Raiders to play 'throw up ball'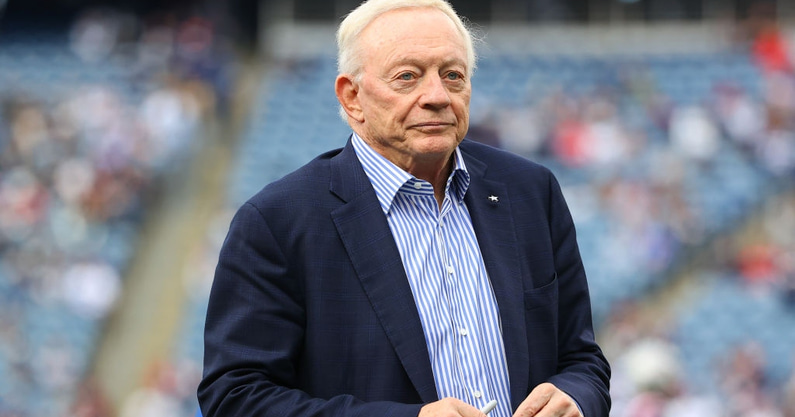 Dallas Cowboys owner Jerry Jones made headlines again with another unique phrase, saying the NFL rules allowed the Raiders to play "throw up ball" Thursday. The Cowboys lost to the Raiders 36-33 in overtime, in a game that featured numerous pass interference calls against the Cowboys.
Jerry Jones on "throw up ball"
"I call it 'throw up ball,'" Jones said after the loss, via the Dallas Morning News' Michael Gehlken. "This will arguably be the most-watched game other than the Super Bowl. I hate that it got down to just throwing the ball up and getting the penalties to get you big plays."
Cowboys defensive back Anthony Brown had a rough night with penalties as he was called for four pass interference penalties. The final one he received was a tough break, as the play appeared to show no contact with the receiver.
However, because Brown did not turn his head around and was face-guarding on the play, pass interference was called and set up the Raiders for a very makeable field goal.
The play drew criticism from Cowboys fans and players alike, as the game already featured both teams getting called for numerous penalties. Both the Cowboys and the Raiders received 14 penalties each.
Rookie cornerback Kelvin Joseph was ejected earlier in the game alongside Las Vegas Raiders safety Roderic Teamer. Joseph expressed how upset he was with the late pass interference call while not on the field as he had to finish the game in the locker room.
With access to his social media, Joseph had a simple message for the officials who ejected him after another pass interference call that likely ended the game.
"Bad call ref."
Kelvin Joseph ejected
On what should have been a routine punt return, there was some after-the-play action on Thanksgiving. The two instigating players were ejected, changing the complexity of the game.
Dallas rookie cornerback Kelvin Joseph and Las Vegas safety Roderic Teamer were battling each other during a punt. It extended past the play and onto the sideline, leading to a scuffle. Both were thrown out of the game.
Joseph disagreed with the decision because he felt the entire incident happened because of Teamer's aggressive blocking. While still in the field of play, Teamer managed to force Joseph out of bounds. But the battle didn't stop there as both players wound up against the stands while still shoving each other, well beyond the sideline.
During the scuffle, one of the referees trying to break up the scuffle came away with an injury. He must have taken a shot off the chin, showing a cut once he separated the two teams from each other. The referee stayed in the game as well.