Joel Klatt assesses better team between Michigan vs Ohio State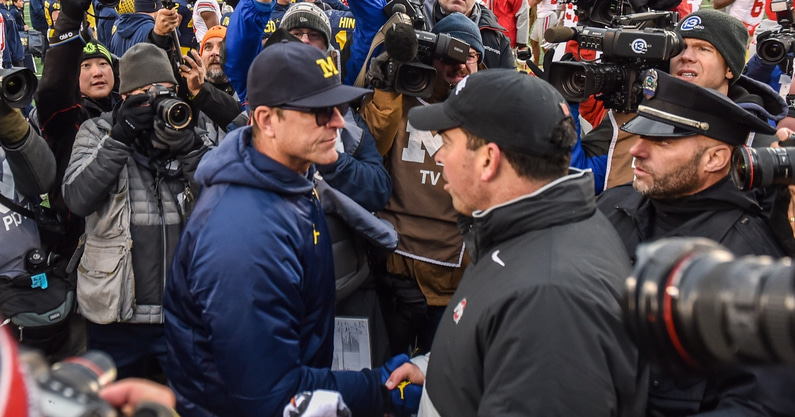 It's been more than 1,000 days since Ohio State last beat Michigan. But the Buckeyes are ahead of the Wolverines in most rankings this season, including FOX Sports analyst Joel Klatt's Top 10.
Even though both teams are 3-0 and saw some big changes over the offseason, Klatt explained why he's rolling with Ryan Day and Ohio State this year.
Ohio State's biggest problem last season was its defense, and the Buckeyes addressed that by moving on from coordinator Kerry Coombs and hiring Jim Knowles from Oklahoma State. They also still have CJ Stroud at quarterback, who's thrown for 11 touchdowns and no interceptions through three games. That's why Klatt thinks Ohio State is the better team.
CLICK HERE to subscribe for FREE to the On3 YouTube channel
"I have Ohio State there because I think that they're correcting issues that were clearly there last year, in particular on the defensive side," Klatt told Colin Cowherd on "The Herd" on Wednesday. "So I still have them ahead of Michigan."
Joel Klatt: Michigan could be a top-three offense in college football this year
Klatt still thinks Michigan is a good team. In fact, he thinks the Wolverines did quite a job reinventing themselves considering they lost offensive coordinator Josh Gattis and defensive coordinator Mike Macdonald after the season. They also lost their top two defensive players to the NFL Draft, as well as their leading rusher.
But with JJ McCarthy now at quarterback, Klatt thinks the offense could be among the best in college football. As for the defense, he noted it hasn't missed a beat despite the coordinator change, and that's because new coordinator Jesse Minter kept the current plan in place.
"This version of Michigan is very different," Klatt said. "They lost both of their coordinators. … They went from within with a guy like Sherrone Moore and Matt Weiss on the offensive side and then Jesse Minter comes in from that same Baltimore tree. But here's the key part: Their scheme didn't change, but their players have, and they've gotten much different style of players. They've got more weapons than anyone probably other than Ohio State in college football. I think it could be a top-three offense in college football."