Joel Klatt gives opening thoughts on Alabama, Texas showdown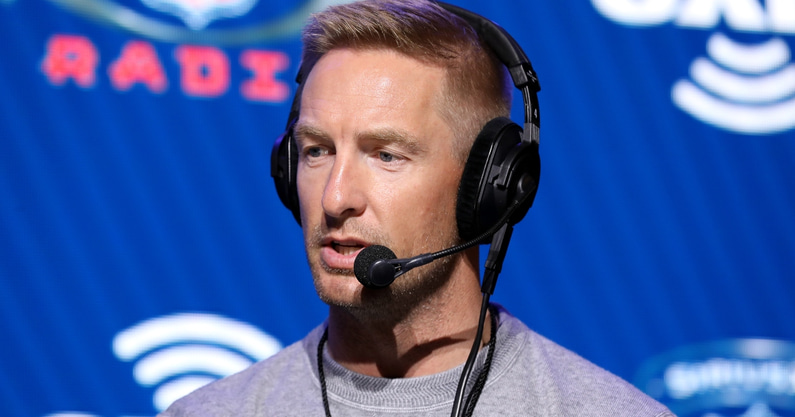 There are a ton of quality matchups on the schedule for Week 1, but Week 2 features some notable battles in college football as well. The headline of Week 2 will be the matchup between Texas and Alabama.
When asked about the matchup between Texas and Alabama on The Herd with Colin Cowherd, Klatt said that in the end, he thinks that the Crimson Tide will be too much to handle for for Longhorns. A lot of that has to do with Alabama quarterback Bryce Young and EDGE Will Anderson.
"I'm not quite sure," Klatt said on if Texas can compete with Alabama. "Alabama is going to be so good, and where they're going to be dominant is the pass rush. Yes, they have Bryce Young and they'll be good on offense. Will Anderson, he could be a top pick. He'll probably be the first pick, non-quarterback pick in next year's draft. I went down to spring ball at Alabama and I was thoroughly impressed with not only Bryce Young, but just the entire defensive front seven is gonna be so good and so dominant. They're gonna be the number one team in the country.
"Last year I felt like they overachieved to get to the National Championship Game. To get to where they went, it was really about Bryce and what he was able to do. He carried them to that National Championship Game. They ultimately get beat by Georgia, but Nick (Saban)'s better team is coming back this year. And this year they're going to be a better team at the line of scrimmage, they're going to be a better defense, and in particular that pass rush."
Klatt is still high on Texas entering Alabama matchup
Even though Klatt thinks that Texas could have its hands full against Alabama, he still believes in what Steve Sarkisian is building. The Longhorns have had a good offseason with a few additions through the transfer portal, including quarterback Quinn Ewers. Texas brings in the fifth-rated 2022 recruiting class, according to the On3 Consensus Team Rankings.
"So this is going to be a really tough one for Texas. Keep in mind, though, Texas is much better this year," said Klatt. "They've recruited much better, they've done a good job in the transfer portal, and we'll see who plays quarterback for them. I think that it might be Quinn Ewers, but remember, he doesn't have a transfer left. So Sarkisian's got this kind of back pocket where it's like, does he have to play him right away? Well not really because he can't go anywhere, which that's kind of a nice little nugget for Steve Sarkisian."
Alabama hosts Utah State in Week 1, while Texas hosts UL Monroe. The Longhorns went 5-7 last year in Sarkisian's first season at Texas, while the Crimson Tide obviously lost in the title game to Georgia.