Joel Klatt reveals new top 10, declares new 'best division in football'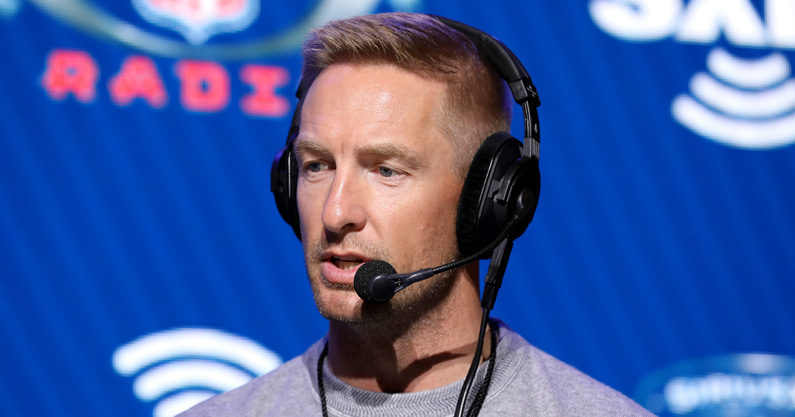 With conference play starting to get underway around college football, the rankings continue to get shaken up. FOX Sports analyst Joel Klatt continued to change his around — and he declared one division the best in football because of it.
Klatt's top four of Georgia, Ohio State, Alabama and Michigan stayed the same, but Oklahoma moved into the top five. Michigan State fell out of the rankings after losing to Washington, but a new Big Ten team joined the crowd: Penn State. That means three Big Ten East teams made Klatt's top 10.
Here are his full rankings, as he broke down on "Breaking the Huddle with Joel Klatt":
CLICK HERE to subscribe for FREE to the On3 YouTube channel
Joel Klatt: The Big Ten East is the best division in football
Now that Penn State is in his rankings alongside Michigan and Ohio State, Klatt declared the Big Ten East the best division in the game. He credits one aspect of the Nittany Lions' game as a reason for the jump.
"Penn State [is] quietly making the Big Ten East the best division in football," Klatt said. "Why is that? Because I've got three of those teams from that same division in my top 10. That's what the running game is doing for Penn State. They are that good, it protects their defense, it protects their quarterback."
Penn State's biggest roster addition has been Nick Singleton — the No. 1 running back in the nation from the class of 2022, according to the On3 Consensus, a complete and equally weighted industry-generated average. He has changed their offense, and that could bode well as Big Ten play heats up.
"Penn State is sneaky this year because they fixed their biggest issue from what hurt them a year ago," Klatt said. "This is a team that I thought was going to be really good offensively last year under their new coordinator, Mike Yurcich, but they couldn't run the ball. They couldn't figure out their offensive line, and that put a ton of pressure on Sean Clifford, their quarterback. That's not a position that he was going to be successful in.
"Now, they've got this guy: Nick Singleton. This dude is legit. He was the No. 1 running back recruit in the country, they get him there at State College and now what has he done? He's gone out there and they don't give him the rock probably enough. But what has he done? Led the country in yards per attempt at 11. They're fixing their run game, and if they can play that style of football, watch out for Penn State. I think James Franklin's got something that quietly could be undefeated against Michigan later this month."
Klatt: 'Don't sleep on Oklahoma'
Oklahoma continues to move up in Klatt's rankings, and the Sooners' showing against Nebraska helped show how good the offense can be. However, because of that performance, Klatt said OU has a "prove-it" game coming up this week.
"Don't sleep on Oklahoma," Klatt said. "This could be a version that could be even better than what we've seen prior. I loved what I saw from Dillon Gabriel. … He's got no panic in his game, he's very smooth and he operates that Jeff Lebby system with complete control. He's got history in it. He played for Lebby dating all the way back to UCF. Now, they're back together at OU.
"They were running the ball well with a really physical, tough offensive line and their defense played as well or better than I've seen them play in, shoot, a decade. Granted, it was against Nebraska, so they also have a prove-it game. They've got K-State this week."
'It's either Georgia or the field'
Once again, Klatt put Georgia atop his rankings and said the Bulldogs could feasibly be in a class of their own before long. He said what's most impressive is the fact that Georgia lost so many playmakers from last year's team — and, yet, it still looks like a better team this season.
He traced that success back to the win over Alabama in last year's national championship.
"Georgia, for me, is getting into that territory where it's either Georgia or the field," Klatt said. "And if you forced me to bet and lay down some money, I think I would have to take Georgia right now. That's how good they're playing. Now, should we have expected this? Yes, of course. They're really talented. They're one of the most talented team in the country, they're defending national champion. But there's something else. This isn't as talented as a defense, in particular, as they had last year … and maybe not even as talented of a team. But they're playing almost better.
"Why is that? It's about confidence. Folks, when they beat Alabama, it wasn't about the national championship, per se. It was about beating Alabama. They had not beaten Alabama since 2007. They were 0-7 since that game. … Now, they beat Alabama and they put to bed those seven straight losses in which Georgia was a top-10 team in every one of those losses and all of a sudden, they have this catapult of confidence because they beat the one program that they needed to beat."