Joel Klatt reveals top 10 following chaotic final regular season weekend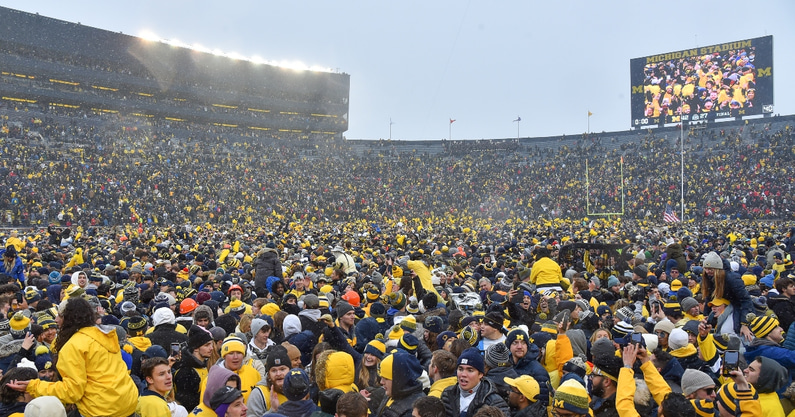 Joel Klatt was in Michigan on Saturday, on the call for one of the best games of the college football season. After witnessing Michigan's victory first-hand and watching Alabama and Oklahoma State gut-out wins against rivals, Klatt revealed his top ten teams in the nation.
Joel Klatt's Top 10:
1) Georgia Bulldogs
2) Michigan Wolverines
3) Alabama Crimson Tide
4) Cincinnati Bearcats
5) Notre Dame Fighting Irish
6) Oklahoma State Cowboys
7) Ohio State Buckeyes
8) Baylor Bears
9) Ole Miss Rebels
10) Utah Utes
Almost) Michigan State Spartans, Iowa Hawkeyes, Oregon Ducks
Klatt: 'Pretty incredible performance there from Michigan.'
In addition to his top ten, Klatt took to Twitter immediately after The Game to share his thoughts. Walking through the snow and mingling with Wolverines fans, Klatt elaborated on what he called an "incredible performance" by Michigan.
"Pretty incredible performance there from Michigan," stated Klatt. "That defense was incredible rushing the passer — that's what they had to do. Hassan Haskins was unbelievable running the football, the offensive line was tremendous.
"Everything that needed to happen for Michigan ended up happening. Ohio State struggled with offensive penalties. They had to kick field goals in the red zone, not touchdowns. And then on the other side, Michigan just ran it down their throat. .. What a great effort from Hassan Haskins and the offensive line. They were dominant today. Dominant. .. Michigan fans, we'll see you in Indianapolis."
It was a dreamscape in Ann Arbor — snow falling down, fans rushing the field and years of frustration gone by the wayside. Moreover, Klatt also added on Twitter that Oklahoma State's victory over Oklahoma joins Michigan as the best victory of the day.
"The stakes in those games and recent history of the match-up make those wins as special as any for those players, coaches, and fan bases," tweeted Klatt.
Whether you're a Michigan, Oklahoma State or simply a football fan — it was a special Saturday. It's one that Joel Klatt, and everyone else who watched won't soon forget.