John Daly II delivers legendary quote following signing of Hooters NIL deal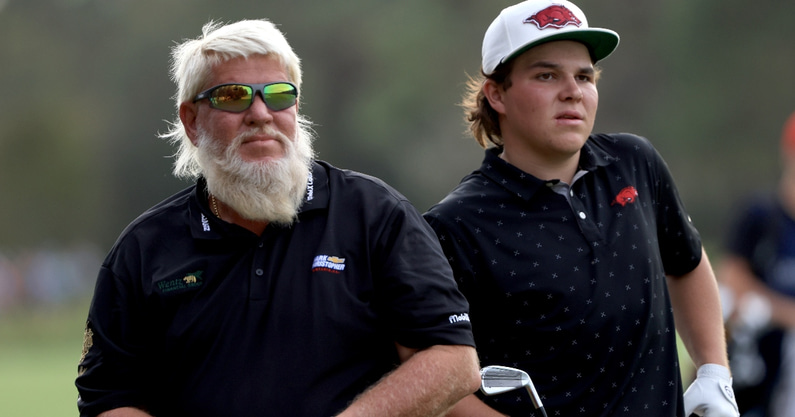 John Daly II is attempting to follow in his father's footsteps. The son of legendary golfer John Daly, he had a front-row seat in watching one of the most entertaining golfers to ever grace the sport.
First, Daly II decided to dedicate his athletic ability to the game his father excelled in. Then, he chose to attend the University of Arkansas, the same school his father attended before turning professional. Finally — and perhaps most importantly — Daly II is partnering with Hooters as an NIL ambassador, a brand his father has been associated with in the past.
After the news broke, Daly II delivered a legendary quote regarding the relationship between Hooters and his surname.
"I have seen my father's great relationship with Hooters over the years, and I am proud to continue my family's association with this iconic brand," stated Daly, via Front Office Sports.
Hooters doesn't always create positive developments between fathers and their families. However, that's far from the case for the Daly family. According to Front Office Sports, the deal is a multi-year partnership.
"Both golfers will be included in social media and digital activations as part of the deal," wrote Amanda Cristovich of Front Office Sports. "They'll wear Hooters clothing and host in-person events at restaurants, and the senior Daly's caddie will carry a Hooters golf bag during the PGA Tour Champions circuit."
Additionally, Hooters of America's senior vice president of marketing, Bruce Skala, revealed the restaurant is "ecstatic" to partner with the duo.
"We are ecstatic to have the Dalys, fantastic golfers and great personalities, on board as spokespeople for Hooters, the definitive 19th hole," Skala said in a statement.
The partnership with John Daly II marks Hooters' first NIL deal since collegiate athletics entered a new space. If it goes well, the restaurant could look to expand their horizons. However, there may never be as good of a candidate as Daly II for the brand.