Jon Gruden raving about Raiders TE Foster Moreau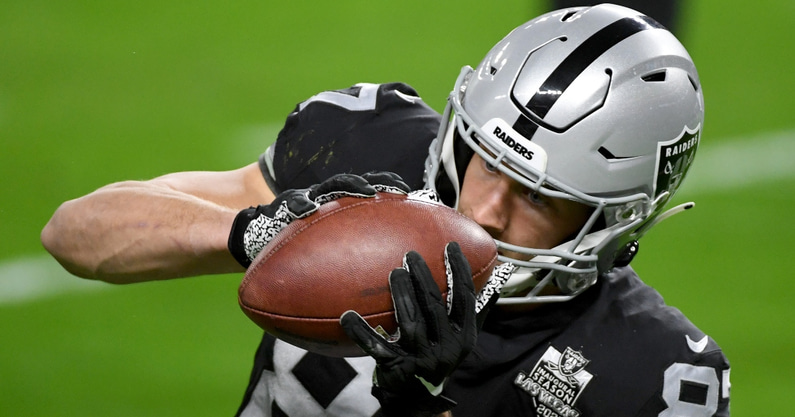 Las Vegas Raiders coach Jon Gruden is lucky enough to have one of the best tight ends in the National Football League in Darren Waller. It looks like this season, fans will be getting used to hearing another tight end make a splash for the Raiders. Gruden was raving about his back-up tight end, Foster Moreau, recently in an interview.
"I'm not gonna be Foster's agent but I wish I was. I love him," Gruden said. "I just think he's perfect for how we want to play here. He can block in-line, he can pass protect, he's a football junkie. He's one of the greatest kids I've ever coached. … I think he and Waller give us a duo that is as good as any I've ever had."
Moreau is drawing rave reviews in camp and while many NFL fans might not know his name, it sounds like they will very soon.
In just two games in 2020, Moreau hauled in seven catches for 140 yards and two touchdowns. One of those was a 47-yard catch, so Moreau has demonstrated the big-play ability. He's just struggled to stay healthy in the past and has dealt with injuries.
In December of 2019, Moreau suffered a season-ending knee injury. He also learned under veteran tight end Jason Witten in the 2020 season, which Gruden recently said has fueled Moreau's improvement.
The former LSU standout has a catch radius score of 10.27, which puts him in the 90th percentile in the National Football League, according to PlayerProfiler.
FOSTER MOREAU LSU CAREER
Foster Moreau was impressive during his final two years at LSU, hauling in 46 catches for over 500 receiving yards and five touchdowns. He finished his career as the seventh-ranked LSU tight end in school history for receptions by a tight end (52). The Louisiana native also finished in a tie for fourth in touchdowns by a tight end in school history (six).
FOSTER MOREAU HIGH SCHOOL BASKETBALL
Foster Moreau averaged 14 points per game and 12 rebounds per game as the starting center for his high school basketball team.
NFL scouts love tight ends with a basketball background. It's become very, very popular in the NFL and it's easy to see why. Boxing out on a basketball court is a very similar motion to going up for a jump ball catch in football.
The skillset doesn't always translate, but the NFL has seen many former basketball players become great tight ends in the league. Antonio Gates and Jimmy Graham are just a few of the great basketball players who have succeeded in the NFL at tight end.
Darren Waller has already established himself as one of the best tight ends in the National Football League, but if Moreau can shine in 2021, well it'll make the Raiders' duo incredibly dangerous.
(Photo by Ethan Miller/Getty Images)