3-star OT Jordan Floyd announces top six schools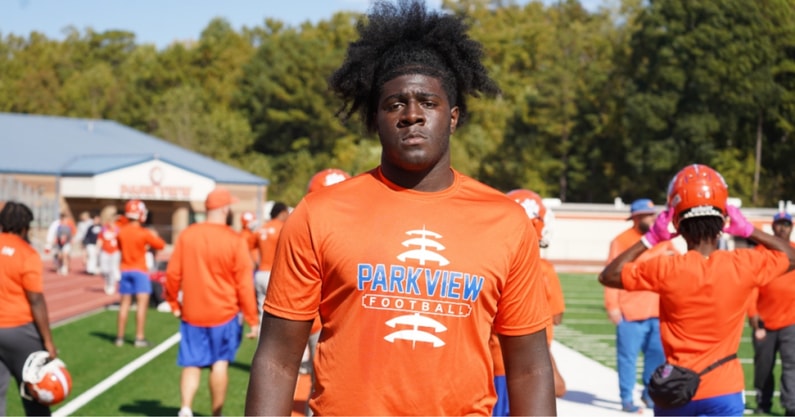 Atlanta (Ga.) Parkview three-star offensive tackle Jordan Floyd holds offers from 13 schools. He is ready to cut down his list by more than half.
Floyd is down to six schools. They are Florida State, UCF, USF, Georgia Tech, Mississippi State and Kentucky.
"These are the schools that I've been talking to the most," Floyd told On3. "I like their campuses and I like everything I've been hearing about them, seeing about them. That's why they're on my list now."
Floyd is taking an official visit to UCF this weekend. He has also scheduled an official to Georgia Tech for the weekend of June 24, but that trip may be moved up to earlier in the month. He is back on the Flats for an unofficial visit Thursday.
The 6-foot-7, 260-pound recruit is interested in taking more official visits, as well. Of his finalists, he has made two trips to Florida State and Georgia Tech and one visit to Kentucky, Mississippi State and UCF.
"They've said they've liked what they've seen on film," Floyd told On3 on Sept. 13 about feedback from multiple programs. "I'm just going to stay humble. I can't get too much of a big head. Just because you have a few big schools talking to you doesn't mean anything. They're talking to other people too. That doesn't mean anything is guaranteed."
According to Floyd, the communication from all six schools is similar. The No. 90 player in Georgia speaks with each of the programs once or twice a week.
"These six schools are the schools that I think I could fit the best at," said Floyd, the No. 780 overall prospect and No. 55 offensive tackle in the 2024 On3 Industry Ranking. "I think I can see myself playing at these schools and having a career there."
Floyd wants to announce his commitment before his senior season and is looking at July as a potential decision month. The three-star wants to get to know the coaches from his finalists more, since they will play a large factor in what program he chooses.
Official visits will also impact Floyd's college destination. He is looking for the school that offers the best combination of coaching style, campus, facilities and education.
"They're important to me," Floyd said. "They will help me get to know the schools better. I know I will be meeting most of the coaching staff on the OVs and I will be seeing the places a lot more in-depth that I did when I took a regular visit."