JP Estrella is your classic late-blooming big man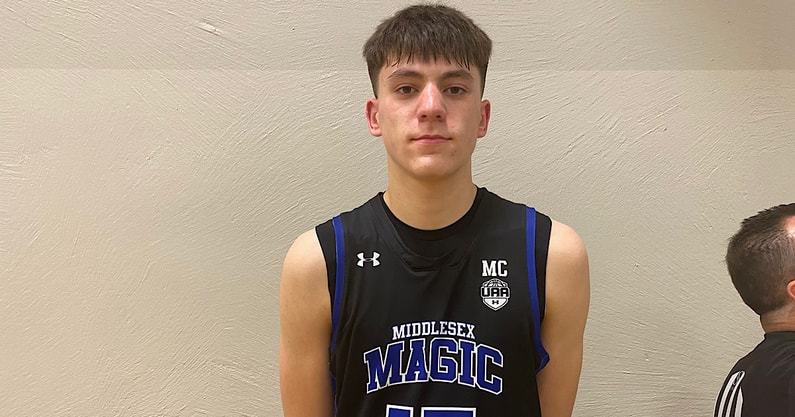 Twelve months ago, center JP Estrella did not have a single Division One offer. In the 12 months since, he averaged 20.2 points, 11.8 rebounds, and 4.1 blocks per game, led his South Portland (ME) High team to its first state title in 30 years. and was named the No. 20 ranked player in the country.
Oh, and the 6-foot-11 center picked up his first offer, from Syracuse, on August 29, 2021. Since that first Syracuse offer, Estrella has picked up over 25 offers.
When JP Estrella first walked the hallways of South Portland (ME) High, he was a 6-foot-3 freshman. As a freshman, the gangly Estrella split his time between varsity and junior varsity. He was more trying to find his way onto the floor than being a recruited athlete.
Three years later, that same 6-foot-3 freshman, who struggled to carve out any time on varsity, is a top-five center in the country. His recruiting sheet includes some of the most storied programs in college basketball.
Coming from Maine, there are not many rich basketball traditions. Notable players over the last 20 years include Duncan Robinson, Nik Caner-Medley, and, well, that is it.
Estrella transferred to Wolfeboro (NH) Brewster Academy for his senior season. Brewster head coach Jason Smith has produced TJ Warren, Donovan Mitchell, Devonte Graham, Will Barton, and numerous other NBA players.
Estrella's recruitment
JP Estrella took June official visits to Marquette and Tennessee. He has visits set with Iowa and Duke for the end of July. Estrella has not set dates yet, but he is talking with Syracuse and UConn about dates; also, Louisville is a new school in the mix that has piqued his interest.
While the process is new for the 6-foot-11 stretch-five, Estrella will go through the process and experience his visits. Estrella eyes a commitment date before his high school season starting in October.