Justin Houston almost signed with the Steelers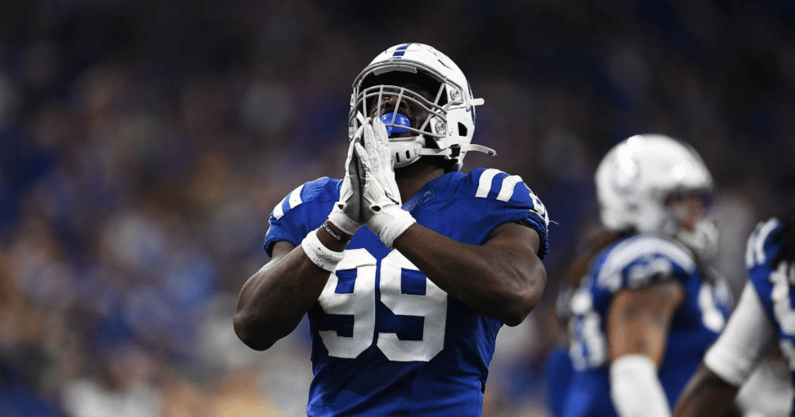 Newly signed Baltimore Ravens pass rusher, Justin Houston almost signed with the Steelers. Houston admitted that he turned down several better offers to join the Ravens. Ironically, one of those offers turned out to be the biggest rivals of Ravens.
Houston's thoughts on almost signing with Steelers
Houston is one of the most respected pass rushers in the league. It's fairly reasonable to think him choosing the Ravens will mean something later in big-time moments against these two rivals. 
"I was so close to signing with the Steelers," Houston told reporters. "That was crazy. They [were] one of the teams I was considering."
Houston wasn't considering the rivalry between the Steelers and Ravens when he was deciding on which franchise he would pen with. Instead, he signed with the Ravens for a multitude of reasons, starting with his fit within the defensive scheme.
"I wanted to go somewhere I know I'd have fun and enjoy the scheme and I was able to show my talents. I think this works best," he shared with reporters.
In ten seasons in the NFL, Houston has racked up 426 tackles and 94.5 sacks. The 32-year old pass rusher was selected in the third round of the 2011 NFL Draft after an All-American season with the Georgia Bulldogs in 2010.
The rivalry continues
This rivalry just became even more interesting with Houston almost signing with the Steelers. The venom flows from both teams but now adding a pivotal player, who has specifically chosen between the two, will only add more fuel to the fire. 
Ravens head coach John Harbaugh knew once they acquired Houston, Baltimore's chances to win the AFC increased. Harbaugh understands how tough it is to win the AFC North let alone take home the conference crown. He truly believes with the addition of Houston, the Ravens have a great shot at contending for a championship. 
"He's a proven player," Harbaugh said. "We have a role for him, and he has a chance to really help us. So, I'm excited about it."