Justin Jefferson on his rookie record, season of Ja'Marr Chase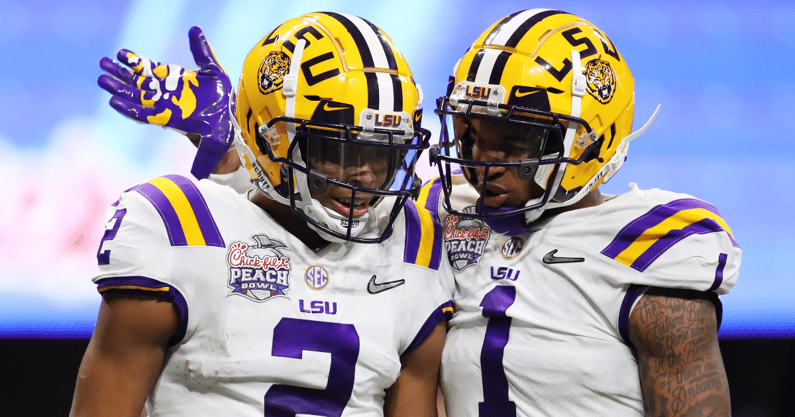 Minnesota Vikings receiver Justin Jefferson said he hopes Bengals receiver Ja'Marr Chase breaks the record for receiving yards by a rookie, according to ESPN's Courtney Cronin. Jefferson broke the record last year with 1,400 yards.
"He's been doing a great job," Jefferson said of Chase. "He's killing it, especially having Joe (Burrow), his college quarterback. I'm proud of him and of Joe and I hope he does break it."
Jefferson and Chase were teammates at LSU, where they won the national championship together in 2019. Chase led the team with 1,780 yards, while Jefferson was a close second with 1,540. Jefferson led the team with 111 receptions while the two combined for 38 touchdowns.
The Vikings selected Jefferson in the first round of the 2020 NFL draft, while Chase returned to Baton Rouge. Even after the latter opted out of the 2020 season, he was taken No. 5 overall in the 2021 draft.
Through seven games this season, Chase has amassed 754 yards receiving to go with six touchdowns. He broke his season-high with 201 yards and a touchdown against Baltimore this past week. His lone score was an 82-yard catch in which he broke out of several tackles on his way to the end zone.
The hope in drafting Chase was that he and Burrow would recreate the chemistry they had together in LSU, and so far so good. The second-year quarterback is also having a breakout season, and his 17 touchdowns are already more than he threw last year (13) in 10 games.
The victory against the Ravens in Week 7 moved Cincinnati to first in the AFC North standings, no doubt due to its talented young duo. The Bengals have not made the playoffs since 2015, but have a good chance to snap that streak this year.
That Justin Jefferson and Ja'Marr Chase could break the same record in back-to-back seasons is a testament to the talent that was on that 2019 LSU team. The Bengals rookie will get his next chance to go off against the New York Jets on Halloween.